You are here
Corporates urged to support entrepreneurs to combat poverty, unemployment
By Mohammad Ghazal - Dec 17,2015 - Last updated at Dec 17,2015
ICT Minister Majd Shweikeh (4th from right) and Trade Minsiter Maha Ali (1st from right) attend a ceremony in Amman on Thursday to mark the first anniversary of the Zain Innovation Campus (Petra photo)
AMMAN — Corporate entrepreneurship responsibility (CER) is the foundation to help start-ups scale up and play a key role in addressing the pressing challenges of poverty and unemployment in the country, ICT experts and officials said Thursday.
In Jordan, where unemployment among young people is estimated at 34 per cent, the private sector needs to be more involved in empowering start-ups and small and medium enterprises, which are the actual job makers in the country, the experts noted during a conference marking the first anniversary of the establishment of the Zain Innovation Campus (ZINC).
"Supporting entrepreneurs and start-ups is a cornerstone in addressing the economic problems Jordan faces," Zain Jordan CEO Ahmad Hanandeh said at the event, attended by key players in the industry, local and regional experts, entrepreneurs and students.
The Kingdom, he added, has all it takes for start-ups to go regional and global, urging the private sector to increase its role in empowering entrepreneurs.
Hanandeh said Zain Jordan will open three branches of its innovation campus outside the capital to increase support to entrepreneurs across the country's governorates.
CER is a new concept that is gaining momentum and can help large companies grow and support start-ups to scale up, Habib Haddad, founding CEO of Wamda, said.
"It is a win-win situation. Large companies need to constantly benefit from innovation that usually comes from small start-ups and the start-ups need large companies to grow and scale up," Haddad noted.
The potential is huge for CER, and some studies indicate that 65 per cent of start-ups are willing to change their business models to become partners with large companies, he said.
"CER is key for further successes in the sector," Haddad added, noting that about 39 per cent of entrepreneurs in Jordan are females and the rate is rising.
ICT Minister Majd Shweikeh said the government places heavy emphasis on supporting entrepreneurs out of its strong belief in their role in developing economies.
"By creating jobs, start-ups help address one of the most pressing challenges in the Arab world that include poverty and unemployment," the minister added, noting that Jordan is a regional hub when it comes to supporting entrepreneurs.
Shweikeh referred to recent government decisions to support the ICT sector that include exempting exports from taxes.
The ministry is also working with the ICT Association of Jordan to address the gap in students' skills.
Related Articles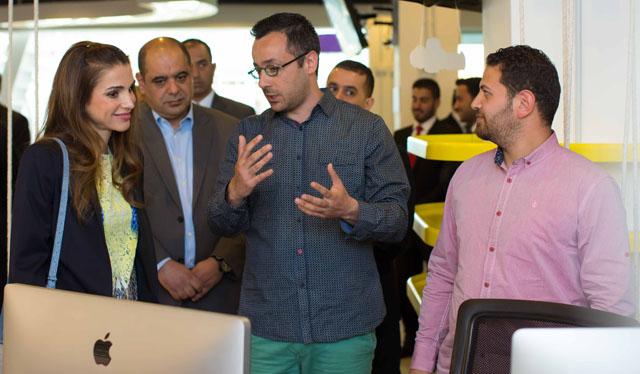 Apr 26,2015
Her Majesty Queen Rania on Sunday visited the Zain Innovation Campus (ZINC) as part of her interest in and continuous support for Jordanian entrepreneurs.
Oct 18,2015
AMMAN — "Things are changing in the blink of an eye" for tech start-ups in the Middle East and North Africa (MENA), with the sector achievin
Dec 10,2016
AMMAN — ICT Minister and Minister of Public Sector Development Majd Shweikeh on Saturday said the government will continue working to suppor
Newsletter
Get top stories and blog posts emailed to you each day.