You are here
Crown Prince Foudation's charity selected for Paris Peace Forum
By Camille Dupire - Sep 18,2018 - Last updated at Sep 18,2018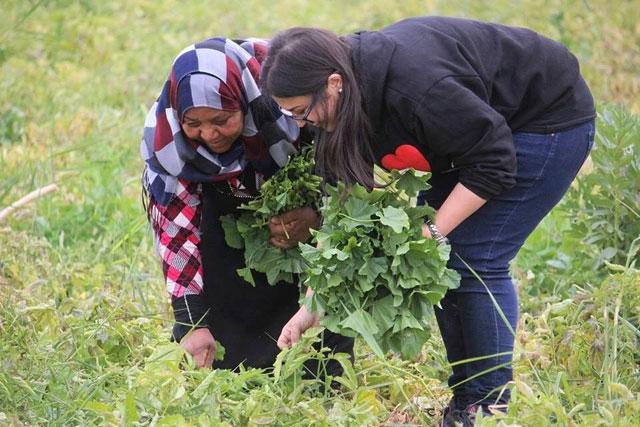 One of the projects supported by the Naua platform helps vulnerable families cultivate home gardens to ensure food security (Photo courtesy of Naua)
AMMAN — An online charity work platform working under the umbrella of the Crown Prince Foundation (CPF) has recently been selected to participate in the Paris Peace Forum (PPF), a global forum aimed at discussing experiences and finding innovative solutions to pursue the Sustainable Development Goals.
A non for profit initiative instigated by the private sector in 2016, Naua was officially launched in Jordan in July 2018, as an e-platform that aims to enhance charity work by bringing together various parties through a safe and transparent online approach.
"When we started, we noticed the severe lack of trust and of sufficient information for the various actors willing to take part in charity work across Jordan, and realised this was a specific problem that needed to be solved to enable a safer and more sustainable philanthropic environment," remembered the initiative's CEO, Ahmad Zubi, adding: "Naua seeks to grow the trust between companies, NGOs, individuals and any other entity by being a third neutral linking party that bridges the gap of confidence."
Dubbed "one of its kind" initiative in the region, Naua is the first social impact platform that promotes philanthropy and civic engagement between the private and the NGO sectors, Zubi told The Jordan Times on Sunday.
"We operate along two main lines: first, we help NGOs fundraise through our platform, by displaying the projects they seek funding for and linking them with donors. Second, we help these charities find volunteers by offering an organised, transparent and collective platform where they can connect safely and efficiently," he continued.
"But what is really different about Naua is our measuring of social impact, which is instrumental in the evolution from the traditional ways of giving, which involved money, big charities etc, to a more sustainable and broader philanthropic behaviour," Zubi pointed out, elaborating on the "clear, measurable criteria" included in all projects selected for the platform.
"What we really want to highlight on this platform are the concrete changes one can make to other people's lives, whether in terms of education, livelihood, culture or anything else. To achieve this, we have created a 'social impact profile' for each user, that displays the impact they have had on society," he continued, stressing that this is made possible by the proper and clear structuring of all supported projects in accordance with reportable impact.
"When looking at the new generation of students these days, it is incredible to see the number of people volunteering and involved in community service. Instead of donating money, youth have become much more eager to donate time for the community, which is an amazing potential to explore," the CEO continued, adding that "at the same time, the private sector is very much willing to do better in terms of corporate social responsibility and to allocate funds in a smarter and more sustainable manner."
Having already helped fund 10 projects across Jordan, Naua was recently announced as one of the 150 governance related projects to be exhibited at PPF's "Space of Solutions" exhibition scheduled to take place from November 11 to 13.
"Naua impressed PPF's selection committee as an innovative social impact platform which connects different societal actors and initiatives to facilitate donations and volunteering efforts," said PPF Vice President Nora Müller, adding: "It ensures accountability and effectiveness, by giving donors the possibility to monitor their contributions with the help of an elaborate framework of development and impact measurement."
"Rooted in Jordan, Naua has already proven its first successes in supporting Jordanian civil society initiatives," she told The Jordan Times on Sunday, highlighting that "the platform can further be replicated both regionally and globally to enable communities".
Among the projects already supported through Naua, Hands on Hope's Home Gardens has been working to support low-income families' food security in some villages in Balqa, by helping them plant their own home gardens and training them on how to sustain themselves by providing a source of food for the family.
"This is a fascinating and very measurable project. Not only can you assess these families' gains in terms of food security and livelihood, but some of them have also managed to create a new source of income resulting from the sale of surplus crops," Zubi pointed out.
Müller said the first edition of the Paris Peace Forum, which is expected to bring together 20,000 participants from the fields of politics, economics, academia, media and civil society, "was founded on the belief that governance through collective action and cooperation of committed stakeholders is the key to tackling today's global challenges".
"Naua represents these very principles by promoting the cooperation of initiatives and those who want to support social change and development. It is therefore an excellent project to be presented at the PPF and we are excited to follow Naua's progress," she concluded.
Newsletter
Get top stories and blog posts emailed to you each day.