You are here
Crown Prince Foundation to establish technical university
By JT - Dec 22,2015 - Last updated at Dec 22,2015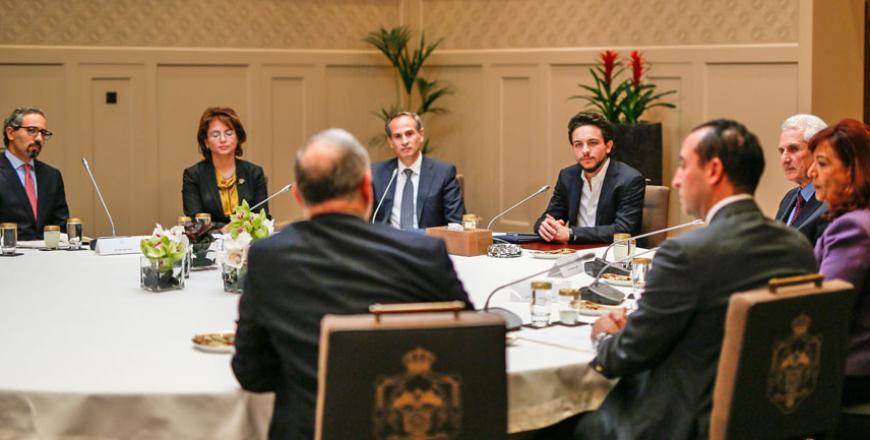 HRH Crown Prince Hussein chairs a meeting of the board of trustees of the newly established Crown Prince Foundation in Amman on Tuesday (Photo courtesy of Royal Court)
AMMAN — HRH Crown Prince Hussein on Tuesday asserted that the Crown Prince Foundation was established to offer a platform that will support initiatives by Jordanian youths in the social, cultural and know-how fields.
Chairing the first meeting of the Crown Prince Foundation's board of trustees, Crown Prince Hussein urged the board members to harness their expertise and experiences in the implementation of the programmes and initiatives the foundation has on the drawing board, a Royal Court statement said.
He underscored the importance of ongoing and periodic reviews of the initiative, using evaluation tools to guarantee optimal utilisation of their outcome.
The Crown Prince and the foundation's board of trustees reviewed new initiatives and the foundation's agenda for next year, according to the statement.
In this context, the foundation announced the launch of an initiative to protect young Jordanians against the dangers of addiction and smoking, along with another initiative on creativity.
The second initiative is designed to support the country's economy through providing young Jordanians with jobs after they are trained and encouraged to use their talents.
At the meeting, Wajih Oweis was unanimously elected as vice chairman of the Crown Prince Foundation. The board members also approved the establishment of the Prince Hussein Bin Abdullah II Technical University and to proceed with the project.
A Royal Decree was issued at the beginning of this month naming members of the board of trustees of the foundation, whose main aim is to achieve across-the-board development in Jordan.
This will be achieved through providing direct support to local communities and through contributing to scientific, cultural, sport, educational, social, vocational and health activities.
In remarks to the Jordan News Agency, Petra, following the meeting, Oweis reiterated that development is a key objective the foundation will work to realise, noting that it is mainly concerned with youths through improving their skills and providing them with jobs to raise their standards of living.
Regarding the Prince Hussein Bin Abdullah II Technical University, he explained that university programmes seek to ensure that its graduates join the labour market in Jordan and abroad.
Related Articles
Dec 31,2015
In April HRH Crown Prince Hussein became the youngest person ever to chair a UN Security Council meeting, leading an open debate on how yout
Apr 22,2015
The Cabinet on Wednesday approved a draft law on the projected Crown Prince Hussein Foundation to be submitted to the Lower House.
Apr 05,2016
AMMAN — Representatives of the Crown Prince Foundation's board of trustees, the Association of Banks on Monday met to discuss cooperation me
Newsletter
Get top stories and blog posts emailed to you each day.