You are here
'Culture of shame, low salaries driving Jordanians away from industry sector jobs'
By Laila Azzeh - Oct 23,2014 - Last updated at Oct 23,2014
IRBID — Low salaries, a lack of transport services and the culture of shame are to blame for unemployment among Jordanians in the industrial sector, business owners said this week.
At a brainstorming session led by HRH Princess Basma, president of the National Goodwill Campaign's higher committee, on Wednesday, young people and business owners exchanged their views on reasons that prevent Jordanians from joining the growing industrial sector, especially in the governorates.
The meeting was held as part of the National Goodwill Campaign's ongoing efforts to reduce unemployment among underprivileged communities.
The Jordanian Hashemite Fund for Human Development (JOHUD) signed an agreement with Al Hassan Industrial Zone Investors Association in June last year to establish an employment fund.
So far, the office managed to connect 128 men and women with corporations, but only 38 committed to the jobs.
"As a university graduate, getting a JD190 salary will never be enough for me," one of the young people remarked at the meeting.
While owners of factories located at Al Hassan Industrial Zone agreed that the monthly pay is very low at first, they encouraged youths to work to gain experience and climb the corporate ladder by proving themselves.
"We have many success stories of people who started as labourers in factories before becoming directors or starting their own businesses," said Mamoun Abu Hafitha, director of King Abdullah Industrial City.
A recruitment office was also established by JOHUD at the Zarqa Chamber of Industry earlier this year.
The office is helping meet the industrial sectors' needs of local workers and contribute to curbing poverty and unemployment.
Discussions on Wednesday also covered ways to change society's views on vocational work.
Rania Khdeirat, a volunteer at Princess Basma Development Centre in Irbid, noted that challenges facing youths in remote areas are "twofold" when it comes to women.
"The lack of dependable transport services and the culture of shame stand in our way when we decide to join the labour market," she noted.
With participants agreeing that finding Jordanian labourers is the most difficult aspect of the industrial sector in the Kingdom, they recommended intensifying awareness campaigns to encourage youths to join the field.
Investors, on the other hand, highlighted roadblocks they face with local manpower, citing Article 72 of the Labour Law, which requires companies that have 20 or more female employees with a total of 10 children under the age of four to provide an adequate daycare centre supervised by trained personnel in the workplace.
"We cannot abide by this, but decided instead to provide a monthly allowance for women through which they can put their children at daycares at their own responsibility," an owner of a factory in a village in Irbid, 80km north of Amman, said.
Also during her visit to Irbid, the princess toured towel and detergent factories at Al Hassan Industrial Zones.
Related Articles
Jun 10,2015
AMMAN — The Jordanian Hashemite Fund for Human Development (JOHUD) on Tuesday launched the National Goodwill Campaign employment and trainin
Jun 16,2014
Members of the Zarqa Chamber of Industry (ZCI) on Monday expressed their keenness to institutionalise cooperation with the National Goodwill Campaign in terms of supporting and enhancing the industrial sector and providing job opportunities for the unemployed at ZCI factories.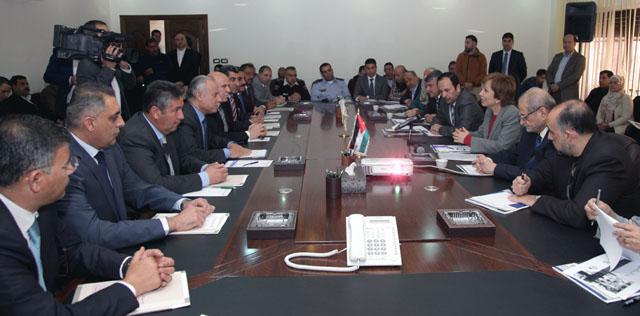 Feb 02,2015
Businesspeople at the Jordan Free Zones Investors Commission on Monday pledged to establish a sustainable partnership with the National Goodwill Campaign to serve its humanitarian and social objectives.
Newsletter
Get top stories and blog posts emailed to you each day.