You are here
Deputy may face charges after drawing gun in on-air brawl
By JT - Jul 07,2012 - Last updated at Jul 07,2012
AMMAN — A former MP is planning to bring charges of attempted murder against Madaba First District Deputy Mohammad Shawabkeh following an altercation on live TV in which Shawabkeh drew a gun, local media reported on Saturday.
On a live talk show aired by the private satellite channel Josat on Friday, Shawabkeh and former MP Mansour Murad were discussing the crisis in Syria when they began trading insults in a heated argument that turned into a physical confrontation.
The moderator lost control of the situation when Shawabkeh accused Murad of working as a spy for the Syrian regime.
Murad then accused Shawabkeh of being a "spy for the Israeli Mossad".
"You are a thief and bought votes," Murad told Shawabkeh and cursed the deputy's father.
The Madaba MP then hurled his shoe at the former deputy and threatened him with a revolver as both men jumped out of their seats.
The moderator tried to calm his two guests several times, but to no avail.
Neither the government nor the Lower House has issued an official statement on the incident.
Related Articles
Jul 08,2012
Deputy Mohammad Shawabkeh could face up to three years in prison and a JD20,000 fine if convicted on charges of carrying a concealed weapon and inflicting "moral harm" on former MP Mansour Murad, a legal expert said on Sunday.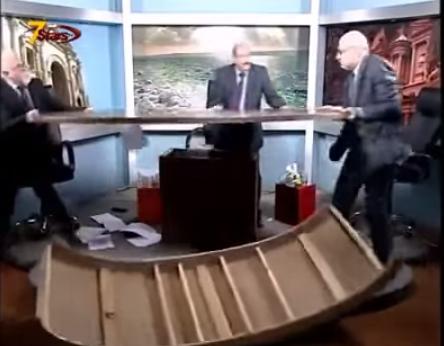 May 10,2014
Two journalists in a televised debate about the civil war in neighbouring Syria literally turned — and overturned — the table on each other during an on-air brawl.
Jan 27,2013
The Amman Criminal Court on Sunday continued hearings in the lawsuit filed by the Audiovisual Commission against the local satellite channel, Josat.
Newsletter
Get top stories and blog posts emailed to you each day.