You are here
Digital citizenship programme empowers students to think critically, fight disinformation
By JT - Sep 27,2021 - Last updated at Sep 27,2021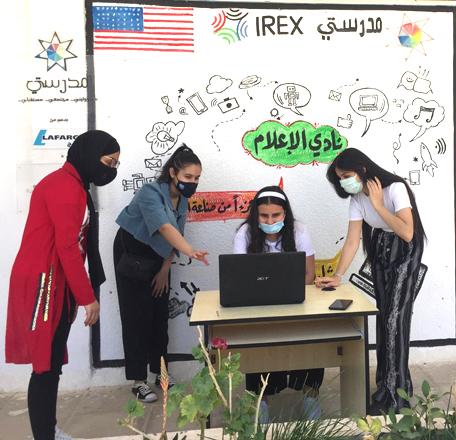 Media Clubs mural in Mahis Secondary School for Girls, June 2021 (Photo courtesy of IREX)
AMMAN – Sixteen-year-old Kinda, a student at the Mahis School for Girls, had doubts about some information she received on WhatsApp, but brushed it off, especially when it came from relatives.
"I now realise that my family used to share misinformation with one another on our family group chat," she said. After a course in media and information literacy, Kinda has started to help her family and peers recognise facts from misinformation and use social media more critically.
Kinda is one of 400 9-10-graders who participated in the Media Clubs programme implemented by the international development and education organisation IREX, in partnership with Madrasati, the Ministry of Education and the US embassy in Amman, according to a statement from the international NGO.
The Madrasati ("My school" in Arabic) initiative is one of Her Majesty Queen Rania's initiatives.
Lead by 20 trained teachers; the Media Clubs were part of the extra-curricular activities in 10 public schools in Irbid, Balqa and Amman during the last school semester and the summer.
The programme combined skill-building training based on IREX's "Learn To Discern" (L2D) information literacy methodology, media production training, and discussions with professional journalists at local and international news organisations.
After training, students worked in small groups to design and implement media projects that counter stereotypes, hate speech, conspiracy theories, cyber bullying, and other types of information manipulation.
The Media Clubs is one of the initiatives that the US embassy is supporting to disseminate media literacy and support the government's National Strategy on Media & Information Literacy.
Susan Szmania, community engagement specialist at the US embassy in Amman, said: "We know that communities around the world have experienced a concerning rise of online misinformation and disinformation. The Jordan Media Clubs programme demonstrates that youth are a vital component to addressing these challenges and to developing innovative solutions."
Safi Abu Al Yaqeen, teacher at Abdul Rahman Halhouli School in Irbid, said: "Beyond the Media Clubs, I began teaching my friends, colleagues and family about what I learned through L2D."
According to IREX Country Director Francesca Sawalha, IREX is using L2D in classrooms, libraries, community centres, fellowship programs, peer-to-peer networks, and schools across various world regions, to help people of all ages build resilience to misinformation, disinformation and propaganda.
Tenth-grader Mohammad, from Abdul Rahman Halhouli School in Irbid, said he "learned a lot from the L2D course, especially on the topics of hate speech, electronic crimes, and propaganda".
Mohammad and his group of fellow Media Clubs students designed and produced a video about rumours.
"Our media production for the Media Clubs is about rumours, because they can do real harm, are easy to spread, but very hard to resist and stop," he said.
By sharing their video on social media, Mohammad and his friends wanted to make sure that "our friends and other young people do not have to go through the negative experiences we had before joining the Media Clubs".
To recognise the best student media projects produced under the Media Clubs, Madrasati is organising an award ceremony scheduled to take place early next month.
Madrasati Executive Director Tala Sweiss said: "We convened a panel of media and education experts to award some of the student initiatives that were the most impactful in building awareness of the dangers of irresponsible online behaviour and in highlighting the importance of critical thinking and objective and accurate information to our daily lives."
Newsletter
Get top stories and blog posts emailed to you each day.