You are here
Diverse array of activities launched for '16 Days of Activism'
By Rana Husseini - Nov 26,2014 - Last updated at Nov 26,2014
AMMAN — The Jordanian National Commission for Women (JNCW) on Tuesday announced the launch of its activities for the "16 Days of Activism Against Gender Violence" campaign.
This year's campaign is under the slogan "From peace in the home, to peace in the world" and the thematic colour is orange "to symbolise a brighter future without violence against women".
One of the main activities is a series of debates between young people and specialists on Article 308 of the Penal Code, JNCW Secretary General Salma Nims said.
Article 308 stipulates that rapists are spared from punishment or legal prosecution if they marry their victims and stay with them for five years.
Activists have been lobbying against this provision, calling on the government to scrap it because it is unjust towards rape victims and unacceptable from a religious and social perspective.
"We want to build up a civil society stand against Article 308 because it is unjust and humiliating to raped women", Nims said at a press conference held at the JNCW.
The debates, organised in collaboration with Radio Al Balad and Qadat Al Ghad organisation, will take place at the University of Jordan and Philadelphia University, she added.
In addition, various workshops will be held in the Tafileh, Maan, Aqaba, Zarqa, Jerash and Balqa governorates to present various initiatives promoted by the JNCW, including "the National Strategy for Women, the complaints office and its services, women's rights, amending Article 308 and its impact associated with religious misconceptions on violence against women".
Running from November 25 (International Day for the Elimination of Violence Against Women) to December 10 (Human Rights Day), the campaign aims at raising awareness on the recognition of women's rights as basic human rights, while triggering global attention to end discrimination and violations against women.
Nims noted that other activities will also target university students using theatrical performances as a tool to address the issue of early marriage.
"Official figures state that the percentage of married women aged between of 15 and 19 is 29 per cent... this is an alarming and dangerous figure," she said.
The activities, held on daily basis, will be promoted through comprehensive media campaigns, including a dedicated radio show, with experts' interventions and reportage related to women's issues, laws and legislation.
Outreach efforts will see active collaboration between the JNCW's media teams and national media outlets engaged in advocating for women's rights and interested in promoting women's participation in sustainable development, according to Nims.
The campaign is organised by the JNCW in cooperation with the Shamaa Network to Combat Violence Against Women — which includes several civil society organisations — in partnership with UN agencies in Jordan, and with the support of USAID and the Netherlands Embassy.
Maartje Peters, deputy head of mission and counsellor at the Dutch embassy, stressed the importance of government and private sector involvement in promoting gender equality.
"Empowering women to overcome inequality is a first step. Getting the government and private sector to actively promote gender equality in the labour market, helps," she told reporters.
Peters stressed that her "embassy will continue to work towards the improvement of rights and opportunities".
UN Women Representative to Jordan Giuseppe Belsito stressed the need to engage men in the gender equality campaign and not to confine activities only to women.
Returning to Article 308, Belsito said this clause "needs to be abrogated".
"We cannot accept that our sisters be married to their rapists. We need to work to abolish this article that was abrogated in many other countries in the region."
The 16 Days of Activism Against Gender Violence is an international campaign originating from the first Womenís Global Leadership Institute and sponsored by the Centre for Womenís Global Leadership in 1991, according to its organisers.
Participants chose the dates November 25 (International Day for the Elimination of Violence Against Women) and December 10 (International Human Rights Day) to symbolically link violence against women and human rights, and to emphasise that such violence is a violation of human rights.
The 16-day period also highlights other significant dates, including International Women Human Rights Defenders Day on November 29, World AIDS Day on December 1, and the anniversary of the Montreal Massacre on December 6.
The campaign aims at raising awareness about gender-based violence as a human rights issue at the local, national, regional and international levels, and strengthening local work around violence against women.
It also aims at establishing a clear link between local and international efforts to end violence against women, and providing a forum where organisers can develop and share new and effective strategies.
up
29 users have voted, including you.
Related Articles
Dec 10,2014
HRH Princess Basma on Wednesday urged young Jordanians to be leaders, never accept that violence against women can provide a solution, and never become either its instigators or its victims.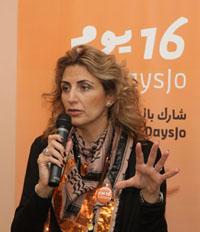 Nov 25,2015
AMMAN – The colour orange, which denotes optimism, inspiration and the rejuvenation of the spirit, will be the emblem of activities held in
Nov 24,2014
Orange is the colour scheme for the second consecutive year to mark International Day to End Violence Against Women and the start of the 16 Days of Activism Against Gender-Based Violence Campaign.
Newsletter
Get top stories and blog posts emailed to you each day.