You are here
Draft penal code stiffens penalties for assaults on employees, natural resources
By JT - Apr 17,2016 - Last updated at Apr 17,2016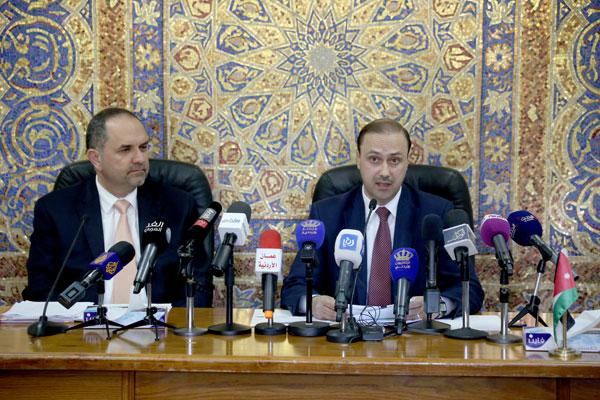 Government Spokesperson Mohammad Momani and Minister of Justice Bassam Talhouni hold a press conference at the Prime Ministry on Sunday (Photo by Sahem Rababah)
AMMAN — The Cabinet on Sunday endorsed a new version of the Penal Code, inserting provisions that "would curb crime and enforce" the state's authority.
At a joint press conference held with Minister of Justice Bassam Talhouni, Government Spokesperson Mohammad Momani said the bill offers "social tools for correction, opening the way for alternative penalties" instead of prison sentences.
The new version of the code also stiffens punishment for those who attack public servants on duty, especially doctors and teachers.
Talhouni said the changes to the bill entail the cancellation of a clause in Article 308 that allows sexual predators to escape punishment if they marry their victim.
It also addresses other illegal acts such as festive firing, car theft and violations to water and electricity grids, including stealing of these resources, the Jordan News Agency, Petra, reported.
Other acts have been defined as crimes in the proposed law, such as sport riots and community violence, which takes the form of tribal clashes.
The bill adopts a new concept regarding "social penalties", Momani said, noting that some crimes may not be very dangerous, but still deserve a penalty.
In some crimes, the bill allowed for a "social penalty" where the defendant or violator has to serve the community without being jailed, the minister of state for media affairs and communications explained.
Under the new draft, vehicle theft is punishable by three to fifteen years, and the penalty encompasses all involved parties, he said.
Also according to the bill, those who enter or leave the Kingdom illegally, and those who assist them, face jail time.
The draft law also jails those who assault or threaten public sector employees with a weapon while they are on duty or in relation to their professional capacity for no less than six months.
If the assault targets a doctor, teacher, nurse or a faculty member in a higher education institution, the jail sentence shall be no less than a year, the draft stipulates.
Those who dig for underground water or commit violations in forest lands or on electricity resources face no less than three years in prison and at least JD5,000 in fines, Petra reported.