You are here
EBRD, UK to provide JD22m to cut Amman's solid waste
By JT - May 09,2018 - Last updated at May 09,2018
AMMAN — The European Bank for Reconstruction and Development (EBRD) and the United Kingdom are providing a financing package equivalent to JD22 million to the Greater Amman Municipality (GAM) to help improve solid waste operations in the capital and at Al Ghabawi, Amman's only sanitary landfill facility, which also serves Zarqa and Ruseifa.
The EBRD's investment of JD11.1 million is co-financed by a JD5.3 million grant from the EBRD Shareholder Special Fund and a JD5.5-million grant from the UK's Department for International Development, an EBRD statement said on Wednesday.
GAM will use the funds to purchase 75 refuse collection vehicles to improve the city's solid waste management.
Due to the Syrian refugee crisis and the growing population, especially in the capital, waste infrastructure, which the investment is directly addressing, according to the statement.
The financing agreements were signed on Wednesday by Janet Heckman, EBRD managing director for the southern and eastern Mediterranean region, and Amman's Mayor Youssef Shawarbeh during the EBRD's annual meeting, held at the Dead Sea until May 10.
The EBRD has signed several financing agreements with GAM, totalling approximately JD87 million, in response to the solid waste crisis.
Donors, including the EU, the UK, Taiwan ICDF, the EBRD's Southern and Eastern Mediterranean (SEMED) Multidonor Account (Australia, Finland, France, Germany, Italy, the Netherlands, Norway, Sweden, Taipei China and the UK) have also provided co-financing and technical assistance to improve GAM's operations, the statement said.
Among the investments financed is the construction of a waste-to-energy landfill gas system, the first of its kind in the country.
Since it began operations in Jordan in 2012, the EBRD has invested over 1 billion euros across a wide range of sectors including power and energy, municipal infrastructure, manufacturing, financial services, and small and medium-sized enterprises, the statement concluded.
Related Articles
May 10,2017
AMMAN — The European Bank for Reconstruction and Development (EBRD) announced a JD 3.2m loan to the Greater Amman Municipality (GAM) to fina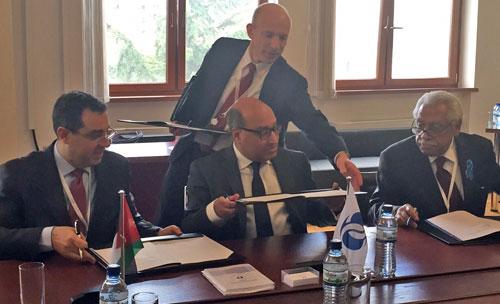 May 16,2015
The European Bank for Reconstruction and Development (EBRD) is providing a $13 million loan to the Greater Amman Municipality to help manage solid waste, generate electricity and reduce carbon dioxide emissions, it said in a statement.
May 09,2018
DEAD SEA — Jordan has become the first country in the SEMED region to join the EBRD's Green Cities Framework, planning and investing in its
Newsletter
Get top stories and blog posts emailed to you each day.