You are here
Economic changes have pushed birth rates down — study
'Women's labour participation among lowest in world, despite rise in education rate'
By Johanna Montanari - Jul 22,2019 - Last updated at Jul 23,2019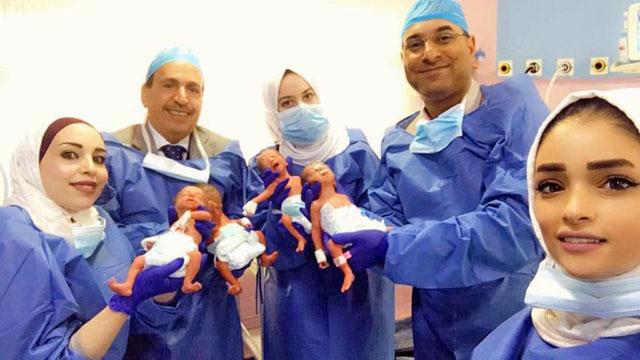 In this undated photo, doctors and nurses pose for a photo with a woman who recently gave birth to quadruplets. According to a recent Department of Statistics' survey, Jordan's birth rate has witnessed a 'major' drop (Petra photo)
AMMAN — Birth rates have dropped significantly in Jordan since the first census was conducted in 1952, a Department of Statistics study showed earlier this month.
The study, released to mark International World Population Day, showed that social and economic changes such as more women seeking an education, taking part in the workforce and marrying later in life have all led to a drop in the birth rate. Jordan's population has also shot up from 586,000 people in 1952 to about 10.309 million as of last year.
The average age of first marriages for females reached 26.6 years in 2018, according to the study.
Pamela Di Camillo, who works as a specialist for gender-based violence at the United Nations Population Fund (UNFPA) in Jordan, confirmed this. "Indeed, more and more Jordanian women choose to pursue their education and this causes delay of marriage," she told The Jordan Times on Sunday.
"This trend is very positive regarding women's rights and development as well as regarding the development of the whole country, as a bigger percentage of the population gets an education. However, in Jordan, this has not translated into women's full participation in the labour market."
Di Camillo explained that more women are receiving an education, but there is still a very low female participation rate in the labour market.
"Jordan has the lowest female labour force participation in the world among countries not at war," the specialist said.
In an interview with The Jordan Times on Saturday, Ahmad Awad WAL from Jordan Labour Watch, a programme run by the Phenix Centre for Economics and Informatics Studies, emphasised that women who want to work still face challenges.
"In general, there is a gap between the outputs of the educational system in Jordan and labour market needs. But there are also specific reasons women are not entering the labour market," he said.
Poor working conditions are one of those reasons, according to Awad, who added that low wages, long working hours, and weak social protections make it difficult for women to engage in the labour market.
"Also the exploitation of women and sexual harassment play a role in the reluctance of women to work in some economic sectors," he added.
Di Camillo added: "Low participation is not necessarily due to women's preferences or beliefs. There are many women that would like to enter the labour force, but there constraints that are hard to overcome, including lack of child care, lack of adequate public transportation, especially in rural areas, wage discrimination and a lack of flexibility regarding part-time work opportunities. There are no policies for enabling a work-life balance."
"The societal expectation is that women should take care of all household chores," she said, stressing that the child-care situation in Jordan adds to the challenge.
Awad pointed to an absence of public kindergartens and nurseries: "Nurseries and kindergartens are extremely costly compared with the low wage rates of the majority of women."
Although the government recently announced a decision to make kindergarten mandatory, "the government's economic choices are heading towards more difficult labour policies, with no intention to revise wage levels", Awad said.
Another worrying aspect for Awad is possible amendments to the Social Security Law: "Amendments would further weaken social protections. Also, the ability of the government to influence the quality of university education... is weak, and no qualitative improvements are expected in this area."
However, Di Camillo said the future seems brighter for women who want to work: "From our perspective at UNFPA, we really see Jordan changing a lot and putting a lot of effort in building an environment for women to grow. We feel that there is a demand for change that comes from the Jordanian women themselves.
"Also the government has an interest in enabling women to take part in the work force and to contribute to the development of the country."
Newsletter
Get top stories and blog posts emailed to you each day.