You are here
Education Ministry panel to control private school fee raises under new by-law
By Maram Kayed - Jun 04,2019 - Last updated at Jun 04,2019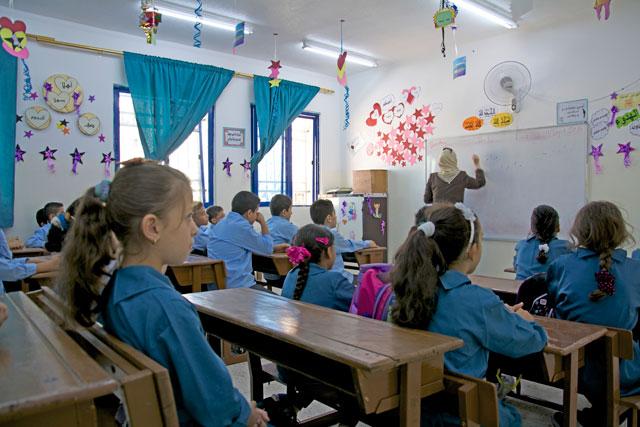 In this undated photo, students attend a class at a private school in Amman (Photo by Amjad Ghsoun)
AMMAN — The Ministry of Education has formed a committee to address the issue of "soaring" private school fees, in response to repeated demands by parents over the past few years.
In June of last year, Prime Minister Omar Razzaz said at a press conference that the government would issue a by-law to regulate the licensing of private schools, as well as their fees, calling the increase in fees by Jordan's private schools "unjustified".
It was on Sunday, a year after the press conference, that the by-law went into effect.
Minister of Education Walid Maani issued a statement made available to The Jordan Times stating that a committee, named the "Fee Increase Committee", will start supervising private school fees as of the new academic year 2019-2020.
The panel comprises directors of the private schooling department, the licensing department and the quality supervision department, among others.
The committee is also tasked to coordinate with the Department of Statistics regarding inflation rates before reviewing any fee-increase request.
The statement said that if any school intends to file for a request, it must follow certain guidelines, one of which is granting 1 per cent of its students scholarships. It must also integrate students with disabilities into its classes so as to make up 1 per cent of total students.
All requests must be submitted between January and April of each year, the new rules stipulate.
For kindergartens, only those with an area of 50sq.m., no more than 25 students and fees no higher than JD500 may apply for increases.
"This is a great step that will benefit students, teachers and parents. Over the past few years, some private schools have taken full advantage of the absence of regulations and exploited parents and harmed smaller schools," said Ahmed Hajaya, spokesperson of the Jordanian Teachers Association.
He added: "This lays a fair and equal ground for competition, something which cannot be achieved when no regulations are in place."
Parents have commended the decision of forming such a committee, saying this will put an end to "soaring and exorbitant" school fees.
Yasmeen Saadi said: "In the past three years, the school I send my child to has raised [its] fees three times. Not only are the raises groundless, but they are also very burdening on us as parents who have more than one child."
Parents have in numerous previous interviews with The Jordan Times called out private schools for "taking advantage of the poor government-funded school system".
"Private-school owners are aware of the flaws in government schools, and they are milking parents for all they have got just to provide students with a somewhat good education," said Sameer Ali, a father of three.
Private schools, however, say that the operating charges and the taxes they are obliged to pay rise year by year, thus making it necessary for them to increase fees, as put by Mahmoud Zu'bi, the owner of a private school in the Al Hashemi neighbourhood in east Amman.
"It feels as if we are coming off as the bad guys when, in fact, we are victims of a strained economy as well. Yes, some big and multi-branched schools use their names and good reputation to make unimaginable profit margins, but that is not always the case," he added.
up
14 users have voted, including you.
Newsletter
Get top stories and blog posts emailed to you each day.