You are here
Educators call for expanding teachers' role as facilitators, decision makers
By Laila Azzeh - Oct 25,2014 - Last updated at Oct 25,2014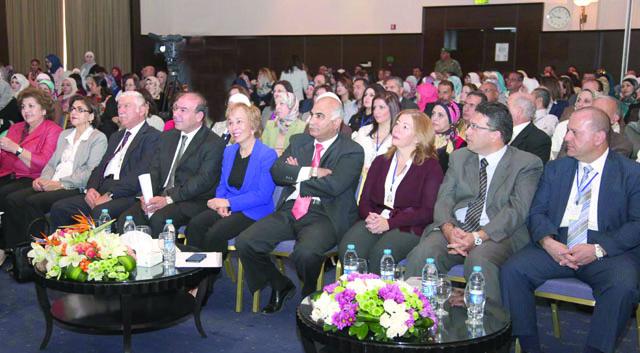 AMMAN — The accelerating influx of information requires empowering teachers to assume new roles, mainly as facilitators of students' interactions with the world around them, education officials said Saturday.
Taking part in the 23rd Educational Conference for the Private Schools Cultural and Educational Council, they agreed that when teachers develop their role beyond merely laying out information, students start perceiving them more as facilitators who guide and supervise their learning process.
Titled "Issues that concern school teachers", the two-day forum addresses the challenges they face inside classrooms at a time when technology, namely video games and social media networks, dominates their lives.
"I think teaching has always been a tough profession, but it is getting more difficult now. To make students enjoy sitting in a class to learn predetermined materials needs a lot of skill and efforts," Sawsan Makahamreh, a history teacher at a private school in Amman, told The Jordan Times.
Farid Khatib, director of the private education department at the Education Ministry, noted that knowledge doubles every two years now, which means that all components of the education process have to change too.
"Studies show that teachers do better when they are involved in decision making along with the headmaster, their students and colleagues. They should also be acquainted with the financial and administrative issues of their respective schools," Khatib said.
With private schools dealing with more than 30 per cent of the total number of students in the Kingdom, educators called for paying more attention to their rights and living conditions.
This year, the annual conference provides a platform for discussing contemporary aspects related to developing students' social and emotional learning, critical thinking and motivation for learning.
Lecturers from Jordan, the US and Lebanon will also look into issues teachers face inside classrooms, including hyperactivity and attention deficit disorder.
HRH Princess Basma, honorary president of the council, underlined that schools will remain the first tool to prepare generations for life and build their personalities and minds.
"With the rising currents of extremism and the emergence of groups that compete in creating new models of killing, mayhem and destruction under ideological and sectarian covers, schools and their cadres find themselves in a complicated situation," she noted.
"This requires precise understanding on how to reach a convincing methodology that deals with the reality on ground," the princess stressed.
She indicated that preparing students for life is not only about teaching them applied sciences, but conveying identity and culture with all its physical and moral components in a fun and respectful way.
For his part, Omar Tayeh, chairman of the council, highlighted that preparing skilled teachers who are able to challenge extraordinary circumstances is one of the issues that concerns the council, citing the important role the Queen Rania Teacher Academy plays in this regard.
At the end of the opening ceremony, Princess Basma honoured educators and supporters.
Established in 1989, the council aims at providing an annual platform for teachers and educational leaders from around the region to exchange expertise on developments in the sector.
Related Articles
Nov 26,2016
AMMAN — HRH Princess Basma on Saturday underlined the importance of "good" education as one of the UN Sustainable Development Goals for 2030

Nov 28,2015
AMMAN – HRH Princess Basma on Saturday underlined that education remains a "decisive" factor in achieving sustainable development and reduci
Nov 29,2016
AMMAN — In a programme "about joy, creativity and fun", 91 students from five UNRWA schools performed in the World Voice Concert at Haya Cul
Newsletter
Get top stories and blog posts emailed to you each day.