You are here
Elia Nuqul Foundation celebrates 10 years of empowering youth
Foundation provides underprivileged youth chance to access education, gain life skills
By Suzanna Goussous - Sep 06,2018 - Last updated at Sep 06,2018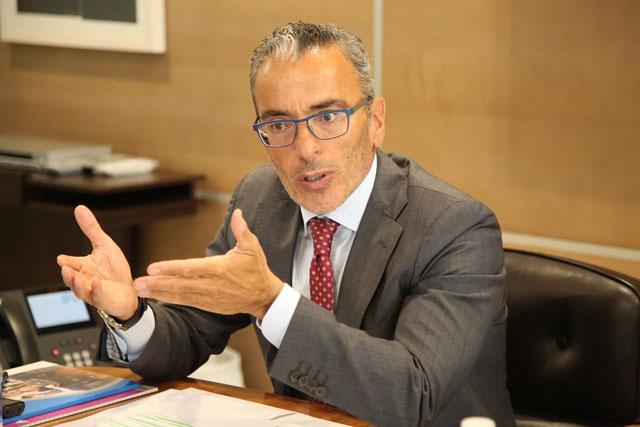 Ghassan Nuqul, vice chairperson of the Nuqul Group (Photo courtesy of Nuqul Foundation)
AMMAN — Marking 10 years since its launch, the Elia Nuqul Foundation this week celebrated empowering the youth, promoting leadership and involvement in the job market through scholarships and extracurricular programmes it is has been implemeting over the years.
The Elia Nuqul Foundation (ENF), established in 2008 by the Nuqul Group, aims at providing the underprivileged in areas around Jordan with education and life skills, according to Ghassan Nuqul, vice chairperson of the Nuqul Group.
He said that the idea of the foundation came as an embodiment of his father's vision, who did not have access to higher education in 1948. Although he had received a scholarship at the American University in Beirut, the unstable financial status of the family as Palestinian refugees denied him the right to continue his studies in Lebanon. Afterwards, he moved to Jordan with his family.
"He felt like he was being denied access to a sacred right, which made him believe he had a powerful message to deliver and fight for. He made a promise that he would make higher education accessible for as many people as possible," he said, which led him afterwards to launch the foundation.
Since 2008, around 221 scholarships have been provided to Jordanian students, most of them being concluded with employment, "which is a life-changing event".
Around 71 per cent of the foundation alumni get a job opportunity directly after graduation, according to Nuqul, which he said "is a result of the training sessions and internships provided for students in summer".
Nuqul added: "The concept is not solely about offering scholarships to Jordanians from all over the Kingdom, the idea is to empower the youth and equip them with the skills gained through extracurricular activities required for the job market."
The foundation provides students with courses, workshops, and training sessions on a variety of subjects to introduce them to the skills, experiences and requirements necessary for the job market once they graduate.
The foundation's graduates have received training programmes and extracurricular activities in various fields including: Information Technology, English language, soft skills, financial literacy, leadership, internships, job shadowing and through the "Hiwaruna" dialogue programme.
"Our alumni, especially the women, have reshaped their families' destinies and changed their lives forever. In a time when we have a huge misconception that we should prioritise men over women, these successful women have proven us wrong," he added.
There are 12 conditions students must have in order to obtain a scholarship. These include: scoring 70 or above in Tawjihi, submitting an application to public universities in Jordan, and being financially unable to afford higher education.
In addition to the scholarship fund, the foundation offers enhancement programmes, which consist of training programmes in leadership, internships, capacity building, interactive dialogue, coaching and mentorship, community service and social entrepreneurship programmes to endorse community service among youths.
"We do not ask anything in return from our students; we only ask them to give back to the community, aiming to plant the seed of giving back. Jordan needs us," he added.
The foundation has also launched a fellowship network, seeking to link the alumni to current students, where they can share experiences and support and develop a sense of responsibility towards the community, according to Nuqul.
He said the foundation aims at increasing the number of beneficiaries and scholarship holders, "we have seen the results and the positive impact it left on students' lives, which is why we aim at moving forward".
He said the programme includes fundraising initiatives, such as "A Donation for Education" and "Sponsor Young Jordanian Student".
One of the beneficiaries, Hiba Sadaqa, said she was employed right after graduating, as she received the foundation's support not only in the academic sector, but also in debate, time-management and volunteerism.
Sadaqa, who currently works as a public health engineer at Zaatari refugee camp, said the foundation developed her work at the humanitarian and professional levels, adding that it has bridged the gap between different groups of the community.
Currently, ENF has partnerships with 15 companies in various sectors and 72 individual partnerships to "give back to the community", Nuqul said.
Newsletter
Get top stories and blog posts emailed to you each day.