You are here
EU vows 'flexibility' as talks on rules of origin continue
By Khetam Malkawi - May 03,2016 - Last updated at May 03,2016
AMMAN — The EU will be "very flexible" regarding the percentage of Syrians employed in factories that will benefit from simplified rules of origin, a diplomat has said.
EU Ambassador to Jordan Andrea M. Fontana explained that the Kingdom-EU negotiations over the rules of origin and the conditions set by the union to loosen them "are not over yet", noting that the European side has sent its proposals to the Ministry of Industry, Trade and Supplies, which will respond to them and a final decision will be taken by member states in July.
Jordan's request for simplified rules of origin that allow local products to enter the EU market was part of a holistic approach to deal with the Syrian refugee crisis that turns the challenge into a development opportunity. The EU wants to see Syrian refugees allowed to legally work in designated development zones that, according to officials, will create hundreds of thousands of jobs for both Jordanians and Syrians. The more access to the European market, the more jobs can be created, Jordan told the international community at the London donor conference in February.
Fontana's remarks were made in response to questions by Jordanian economists following a lecture he delivered at the Economic and Social Council.
In remarks after the lecture, Omar Razzaz, an economist and former CEO of the Social Security Corporation, criticised a condition set by the EU that 20 per cent of workers in factories, which would export to Europe, be Syrians. The percentage was 30 per cent initially, Razzaz noted, and Jordan is negotiating to further reduce it.
For Razzaz, the majority of Syrians work in the agricultural and construction sectors, which will make it difficult for Jordanian factories in other industries to meet the requirement, and that would deprive Jordanians of their fair share in the jobs expected to be generated when investments flow to Jordan to benefit from the new rules.
Fontana said that the "exceptions" expected to be made for Jordan by the EU would stimulate investors and entrepreneurs to come and set their industries in Jordan, and, subsequently, contribute to mitigating the impact of the Syrian crisis on the Jordanian economy.
He added that the EU and the government have also expressed willingness to start negotiations for a Deep and Comprehensive Free Trade Area granting Jordan more access and privileges in certain sectors of the EU market.
In addition, Fontana noted that Jordan has advanced well in preparing an agreement for conformity assessment and acceptance of industrial products that would enable Jordanian products of selected sectors to enter the EU market without additional technical controls. "Jordan has chosen electrical products, toys, gas appliances and pressure equipment as a priority sector," the EU ambassador explained.
Meanwhile, Fontana underlined more support to Jordan to help it accommodate the 50,000 Syrian children, who are currently out of schools, in the school system next year.
However, both Razzaz and Muhyiddin Touq, former Kingdom's ambassador to the EU, expressed concern regarding the quality of education provided to Jordanians in schools due to the integration of Syrians in the mainstream education system.
For Muhyiddin, there should be an alternative system.
"Our schools are overcrowded and the level of achievement of Jordanians is deteriorating year after another," Touq said, adding that there should be an informal education system to accommodate Syrian children, and bridge the gap between their ages and grades.
There are about 1.3 million Syrian refugee in Jordan, 85 per cent of whom live outside camps.
Related Articles
Dec 13,2017
AMMAN — Ambassadors of EU member states on Wednesday joined the EU Ambassador to Jordan Andrea Matteo Fontana in a field visit to comp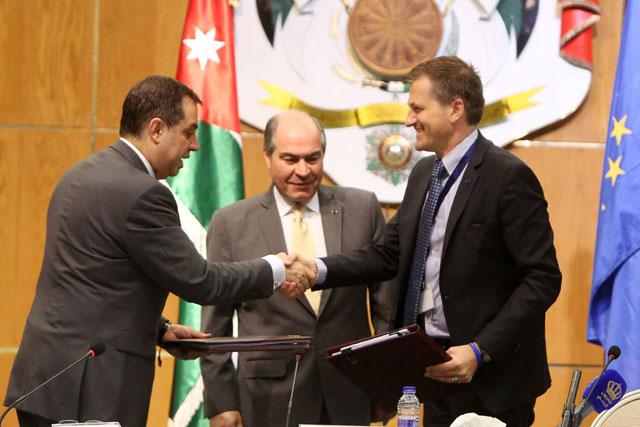 Jul 21,2016
AMMAN — Exports of Jordan-made products to Europe are expected to increase following a deal with the EU stipulating "relaxed" rules of origi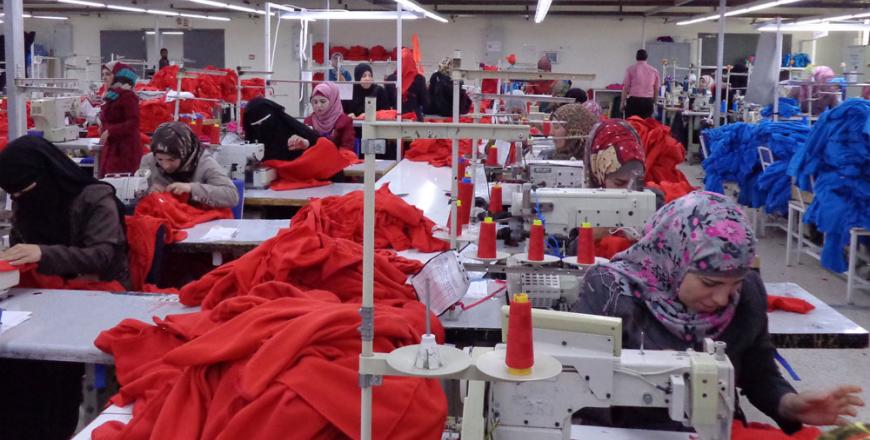 Nov 22,2016
AMMAN — Salem, 39, is a Syrian refugee who works in general maintenance in Jordan without an official work permit.Registered as a refugee wi
Newsletter
Get top stories and blog posts emailed to you each day.