You are here
Executive, judiciary authorities agree to enhance cooperation
Top judge requests more court employees to ease pressure
By JT - Jun 26,2018 - Last updated at Jun 26,2018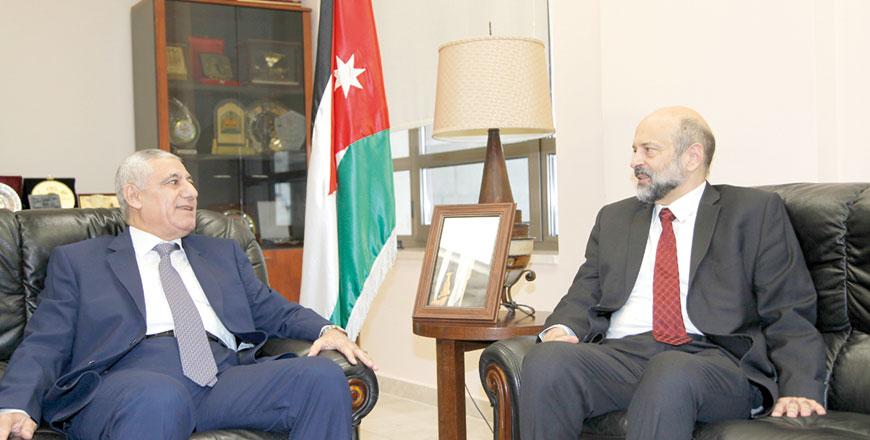 Prime Minister Omar Razzaz (right) meets with President of the Judicial Council Judge Mohammad Ghazo in Amman on Monday (Petra photo )
AMMAN — Prime Minister Omar Razzaz has asserted the government's commitment to and full respect for the judiciary's independence and its willingness to provide the necessary resources to facilitate the job of the judicial branch and render its performance more efficient, the Jordan News Agency, Petra, reported.
During his visit to the Judicial Council, where he met with its president Judge Mohammad Ghazo and the council's members, attended by Minister of Justice Awad Abu Jarad and Minister of State for Legal Affairs Mubarak Abu Yamin, the prime minister stressed the important role of the judicial authority in strengthening the rule of law and safeguarding human rights, pointing out the judiciary's achievements in the recent years, especially the success in expediting the litigation process and adjudication of cases.
Razzaz discussed aspects of cooperation as well as ways to maintain effective communication and coordination between the executive and judicial branches to serve the country and its citizens. Razzaz highlighted the importance of working with the concerned bodies to work out mechanisms to expedite the execution of final judicial rulings.
For his part, Ghazo said that the support received by the judiciary from His Majesty King Abdullah, including the recommendations of the Royal Committee for Developing the Judiciary and the package of legislation passed by the Parliament have provided a conducive atmosphere for the development of the
judicial system.
He also highlighted the most significant challenges facing the judiciary, including shortage of staff, pointing out that during the coming period, a group of judges will be appointed to support the judiciary and to ease the pressure on the judicial system, calling on the government to do its part and hire more administrative staff to man courts.
up
56 users have voted, including you.
Newsletter
Get top stories and blog posts emailed to you each day.