You are here
Exhibition sparks 'conversation between therapeutic art and humanity'
By Ana V. Ibáñez Prieto - Oct 12,2017 - Last updated at Oct 12,2017
Artwork on display at the Wadi Finan Art Gallery showcasing the works by of Raya Kassisieh and Bayt Silsal at Ruwwad (Photo byAna V. Ibáñez Prieto)
AMMAN — Ceramic creations, a fabric garden, and a film are brought together to remind spectators of one's humanity at the new "Amalgamate" exhibition inaugurated on Sunday at the Wadi Finan Art Gallery, showcasing the artwork of Raya Kassisieh and Bayt Silsal at Ruwwad.
The exhibition is held under the patronage of HRH Princess Wijdan Al Hashemi, and will be open to the public through November 1.
"Amalgamate" is a visual experience created by the combination of different ceramic pieces made by members of Bayt Silsal at Ruwwad, an organisation that established a haven for 16 adults with disabilities who express and soothe themselves through therapy and gardening.
Inspired by Yayoi Kusama, Kassisieh took the ceramic pieces and installed them in a mirrored room that invites gallery visitors to get lost in the space, inspecting each of the pieces, which are products of the therapeutic art made by the people of Bayt Silsal.
"I was incredibly touched when I first visited the place about three years ago and discovered how they used art as a therapeutic practice," Kassisieh told The Jordan Times, adding that "all of these pieces have a social impact and what is important in this exhibition is that all of them are a reflection of the people who made them."
When asked about the message she is trying to convey, the artist explained that "Amalgamate is a conversation between art and humanity, which reminds us that despite our differences, we are all the same after all: humans".
The installation continues long after the visitor leaves the mirrored room, entering a garden decorated with colourful pieces of fabric that create a serene, soft atmosphere to carry the viewer to the final stage of the exhibition: the screening of the film "I am here", directed by Deema Shahin.
The film provides the visitors with a first-hand look at the lives of the members of Bayt Sisal, working as a testimony of their day-to-day life at Ruwwad.
Related Articles
May 12,2014
An exhibition showcasing the work of a group of young adults with disabilities involved in the Bayt Silsal initiative at Ruwwad Al Tanmeya organisation concluded on Monday.
Jun 01,2015
AMMAN — Ruwwad Al Tanmeya, a non-profit community empowerment organisation, is holding its third annual "Bayt Silsal at Ruwwad" exhibition,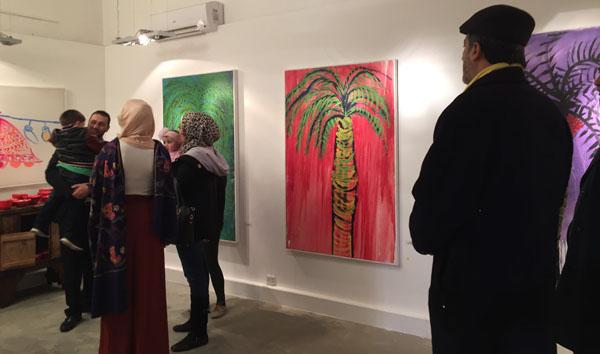 Dec 17,2015
AMMAN — An exhibition that opened on Wednesday showcases works of art illustrating the thoughts and skills of people with disabilities.&nbsp
Newsletter
Get top stories and blog posts emailed to you each day.