You are here
Experts call for renewed commitment to maternal, child health in region
Despite progress in field, international actors highlight remaining challenges related to maternal and children mortality
By JT - Sep 11,2017 - Last updated at Sep 11,2017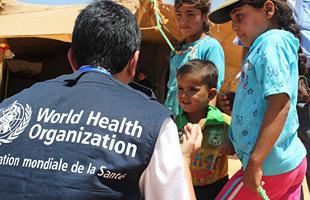 Significant progress has been witnessed in the maternal and child health field over the past 15 years (Photo courtesy of WHO)
AMMAN — Maternal and child health programme managers from countries of the Eastern Mediterranean region and six key international agencies met in Amman this week for the third intercountry meeting on combating maternal, newborn, child and adolescent mortality and morbidity, according to WHO statement on Monday.
In recognition of the remaining challenges in improving the health of these groups in the region, representatives of agencies in the H6 regional partnership (WHO, UNICEF, United Nations Population Fund (UNFPA), UNAIDS, UN WOMEN and the World Bank) committed to intensifying efforts to improve health outcomes for these target groups, in line with targets of the Sustainable Development Goals (SDGs), according to the statement.
"This third intercountry meeting represents a crucial opportunity for national maternal, newborn, child and adolescent health programme managers and experts from regional and global levels to fulfil our joint mission of ensuring that every mother, newborn, child and adolescent in our region not only survives, but thrives," regional director for the Eastern Mediterranean, Mahmoud Fikri, said in his opening statement.
"We must continue to strengthen our efforts to enable countries to accelerate progress towards achieving the targets of the SDGs and promote the transfer of knowledge and expertise to Member States, in collaboration with the H6 agencies."
Representatives stressed the need to accelerate the implementation of evidence-based, cost-effective interventions for reproductive, maternal, neonatal, child and adolescent health, with an emphasis on quality of care and measurement tools.
Despite clear disparities in some indicators for maternal and child health, significant progress has been witnessed in the region over the past 15 years. Between 1990 and 2015, maternal mortality fell by 54 per cent, from 362 to 166 per 100,000 live births, while under-five mortality fell by 48 per cent, the statement said.
The region, however, continues to be challenged by ongoing conflict and emergencies that affect more than half of WHO's member states either directly or indirectly, resulting in death, displacement and devastation for millions, the statement read.
"While the Region has made positive progress there remains much to be done. This meeting is an opportunity to develop our collective vision to improve the health of women, newborns, children and adolescents andto develop a shared understanding of the regional priorities and our roles at the country level," Fikri said.
"Ultimately, we are reaffirming our commitment to improve the health and well-being of all women, newborns, children and adolescents in our region and end preventable deaths, and I call upon all member states and partners to continue working together towards this noble goal," he added.
The H6 partnership is a joint platform for coordinated action among partners. The partnership works closely with existing bodies at global, regional and country levels to strengthen and sustain efforts to ensure the survival and well-being of women, newborns, children, and adolescents in the Region, according to the statement.
Related Articles
May 29,2014
During a visit to Canada on Thursday, Her Majesty Queen Rania took part in a summit on maternal, newborn and child health (MNCH) and witnessed the signing of a letter of intent outlining Canadian support for education in Jordan.
Feb 21,2018
AMMAN — UNICEF has donated life-saving neonatal equipment to Jordan University Hospital (JUH) in a bid to help every child born there have a
May 21,2014
The lives of three million women and babies can be saved every year by 2025 for an annual investment of about a dollar per head in better maternity care, researchers said Tuesday.
Newsletter
Get top stories and blog posts emailed to you each day.