You are here
Experts launch global migration programme for 'improved humanitarian policy framework'
By Camille Dupire - Jun 11,2018 - Last updated at Jun 11,2018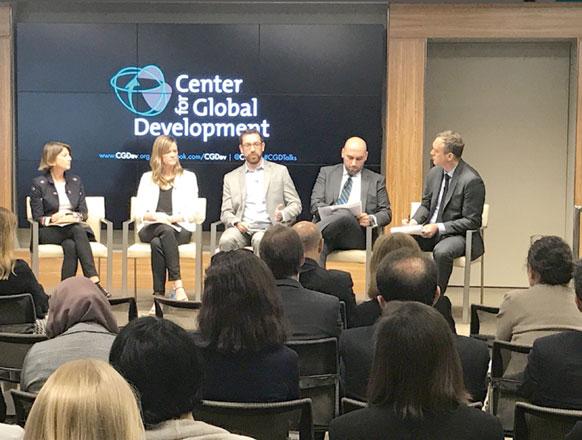 Feras Momani and international experts take part in a panel discussion on migration in Washington recently (Photo courtesy of CGD)
AMMAN — Policymakers, academics and government officials from around the globe recently gathered in Washington DC to discuss new ways to tackle global migration, displacement, and humanitarian policy challenges in the 21st century, as part of the official launch of the "Migration, Displacement and Humanitarian Policy" programme.
Organised by the Washington based Center for Global Development (CGD), the conference aimed to "foster constructive dialogue around the global compacts on migration and refugees, and advance policy discussion on a range of issues such as innovative labour mobility agreements, compacts for refugee and host livelihoods, and reform of the humanitarian system", CGD director of communications Holly Shulman told The Jordan Times.
In his opening remarks, CGD president Masood Ahmed said: "We are thrilled to see the launch of our programme that brings together the different streams of research and policy work in these areas that we see more and more interconnected."
"Rather than thinking about migration as having a set of fixed benefits or costs, it is the policy framework under which you manage migration that determines what the outcomes are going to be in terms of balance of benefits and costs," Ahmed stressed, citing the long term work undertaken by researchers Cindy Huang, Jeremy Konyndyk and Michael Clemens that helps enlighten policy work in areas affected by migration such as Jordan.
Starting off the discussion panels, former executive director of the UN World Food Programme Catherine Bertini, former US assistant secretary of state for international organization affairs Bathsheba Crocker and former US assistant secretary of state for population, refugees, and migration Eric Schwartz tackled the issue of "aspirations vs limitations: can humanitarian reform deliver change?"
"This topic doesn't need this much discussion. Actually, if we had more senior national and international leadership on resolving crises, or 'political will', we would not need this many discussions around issues facing the humanitarian world," Bertini claimed, before moving on to highlight the need to distinguish between the number of displaced and the state of humanitarian funding.
"We cannot keep comparing the current situation to that of the past," she stressed, citing the case of the protracted Syrian and Yemenis crises which "created refugees who need aid for longer, hence for larger amounts of money."
She commended the voluntary nature of humanitarian funding, saying "I believe this is one of the points that should be retained in any new model as it allows for more accountability, responsibility and effectiveness compared to assessed funding."
Schwartz, who is the current president of the NGO Refugees International, went on to discuss ways to reform and improve the humanitarian system, noting "we are facing the challenge of a large number of agencies and operations trying to do good but in a very uncoordinated, unmanaged way."
Acknowleding the "progress made on real self sufficiency mechanisms such as education and employment," he stressed, however, "we cannot achieve transformative humanitarian architectural reform at the same time as we are witnessing the erosion of rights for refugees, migrants, and asylum seekers".
During his presentation in the panel titled "Responding to Protracted Displacement: Innovation in Challenging Times", director of the Jordan Compact Project Management Unit Feras Momani stated: "When it comes to such crises, rather than addressing immediate short term humanitarian needs, the idea is to look at it as a development challenge and take into consideration the long term economic development needs."
Adressing the specific case of Jordan, Momani introduced the launch of the Jordan Compact Project Management Unit following the London Conference on the Syrian Crisis in 2016, saying: "We wanted to make sure that the activities targets of the Jordan Compact are being met, especially in light of the large number of actors involved in the compact".
"We are working to consider Syrian refugees as assets not burdens, meaning that we are not only looking at their immediate needs such as water, food, shelter etc. The Jordan Compact realises that refugees are human beings with needs that are much more than humanitarian. They have their own aspirations, skills, etc," he told the audience, stressing "this is especially relevant in the case of Jordan, which hosts some 1.4 refugees from protracted crises in the region."
Invited as a keynote speaker, UN special representative for international migration Louise Arbouralso emphasised the "bigger picture" entailed in the current narrative on migration. "There is a lot more to migration and development than remittances," she stated, pointing out the need for migration policy to be "fair and nuanced, especially at the most granular level."
"With its implications across so many broad areas, the issue of migration needs to be tackled in a way that maximises the economic and social benefits of human mobility for all," the UN official commented.
"As countries struggle with political pressures to close borders and question the value of traditional aid to humanitarian emergencies, divisive rhetoric can often drown out reasoned debate," said Schulman, noting that the CGD event came to address "the imperative for pragmatic evidence on migration, forced displacement, and humanitarian policies."
The event also witnessed the official launch of the migration programme's flagship project, a study in a series of migration policy recommendations titled "Migration Is What You Make It".
"This series will offer synthetised evidence on the economic, social and other impacts of human mobility, and how policy can shape these impacts for greater benefit for host and origin countries, as well as migrants themselves," Shulman concluded.
Newsletter
Get top stories and blog posts emailed to you each day.