You are here
Exports by JEDCO beneficiaries for 2012-2014 exceeded JD121m — study
By Merza Noghai - Feb 10,2016 - Last updated at Feb 10,2016
AMMAN — The value of exports by beneficiaries of the Jordan Enterprise Development Corporation (JEDCO) between 2012 and 2014 exceeded JD121 million, a study on JEDCO's performance revealed on Wednesday.
JEDCO CEO Hana Uraidi said the study, dubbed "Service impact evaluation", showed that 1,056 of the 1,100 projects the corporation financed in the past six years are successful and still running, constituting 96 per cent of the total projects.
"Fifty two per cent of the total projects financed by the corporation were able to penetrate new markets," Uraidi said, citing the findings of the review, which was carried out by a specialised consultation company.
Between 2012 and 2014, JEDCO beneficiaries achieved JD18 million in profits from their projects, the CEO told reporters.
The survey also showed an increase in the production volume, and an improvement in quality and competitiveness, she added.
"These increases positively affected the national economy, contributing around JD19 million to the Treasury and boosting income tax revenues by JD2.7 during the same period," Uraidi highlighted.
Some 47 per cent of JEDCO beneficiaries (517 people), said the assistance they acquired increased their revenues by JD2.5 for each JD1, she added.
Over the last six years, the CEO noted, European grants funded around 65 per cent of the corporation's work at a total amount of 75 million euros.
JEDCO is currently studying 92 projects whose owners applied to receive loans, she said, adding that the corporation plans to provide financial support to 30 projects at a total of JD10 million in 2016.
As for the Governorate Development Fund (GDF) affiliated with JEDCO, Uraidi said it has supported 125 industrial and service projects across the Kingdom since its establishment in 2011, 106 schemes of which were new and the other 19 had already been operating.
"The total finances of the GDF to the 125 projects reached JD60.476 million, with an investment volume of JD129.605 million, and these projects are expected to generate 3,704 jobs," she added.
Related Articles
Oct 27,2015
AMMAN — Prime Minister Abdullah Ensour on Tuesday stressed the need to expedite the Governorate Development Fund's (GDF) work and the need f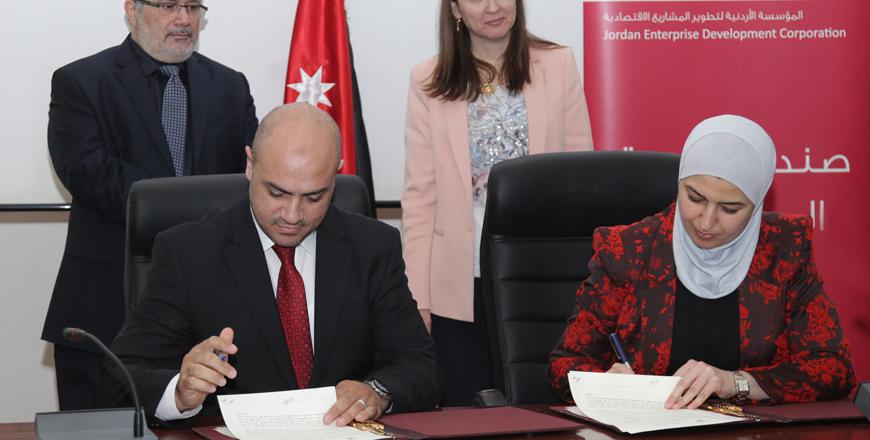 Jul 23,2015
AMMAN — Islamic financing tools for projects funded by the Governorate Development Fund (GDF) will be available for beneficiaries, based on
Mar 06,2016
AMMAN — Since its launch in 2012, the Governorate Development Fund's (GDF) has supported around 125 industry and service projects, with a fu
Newsletter
Get top stories and blog posts emailed to you each day.