You are here
Family activities mark Europe Day
By Muath Freij - May 10,2014 - Last updated at May 10,2014
AMMAN –– Several Jordanians enjoyed a family day held by the EU at the King Hussein Park's Cultural Village on Friday to mark Europe Day.
Children and adults enjoyed activities such as musical concerts, games, face painting and a performance by Polish street theatre group "Pinezka".
The EU celebrates the Europe Day annually on May 9 in Europe and all over the world, marking French Foreign Minister Robert Schuman's declaration in 1950.
Schuman called on European countries to assemble in order to create "the first concrete foundation of a European federation", according to an EU statement.
The declaration marked a milestone in European history, paving the way to the union celebrated today, the statement added.
"We are celebrating May 9 every year because it is a national day for the European Union," EU Ambassador to Jordan Joanna Wronecka told The Jordan Times during Friday's event.
"We are celebrating the Schuman declaration as we are proud of our solidarity and unity…" she added.
The EU consists of 28 member states.
"Each year, we try to explain or to propose to our Jordanian friends new ideas because it is very well to stay together and to celebrate what we are doing. Jordan is an important… partner for us," Wronecka said.
"These activities… show how close we are to you," she added.
Visitors interviewed by The Jordan Times said they enjoyed the activities, which motivated them to learn more about the EU.
Raed Saleh, an engineer, said he did not know about Europe Day before.
"But now I'm curious to go back home and learn more about it," he added.
Natasha Haddad, who brought her nephew to the event, said although she lives in the 7th Circle area, it was her first time visiting King Hussein Park.
"Promotions of this event encouraged me to come check it out and visit the park for the first time as well," she said.
Abbas Hussein, an Iraqi who resides in Amman, said this kind of event shows Jordan's rich cultural life.
"Activities catered to all walks of life and it was even an opportunity for parents to enjoy a family day on the weekend," the father of seven added.
He said more activities should be held during the summer, because the Kingdom receives a lot of tourists during this time of the year.
The activities were funded by the EU and implemented by the EU National Institutes for Culture in Jordan, which comprise the British Council, Instituto Cervantes, Institut Français, Goethe Institut, the Embassy of Greece and Società Dante Alighieri, according to the EU statement.
Related Articles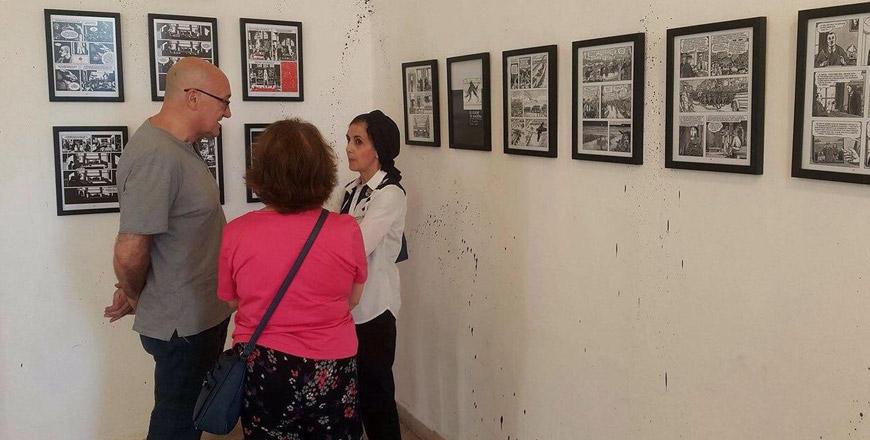 May 14,2017
AMMAN — The European Union marked Europe Day celebrations in Jordan, holding a number of cultural and artistic activities. Europe
Sep 14,2014
A family day held in the capital's Jabal Luweibdeh neighbourhood on Saturday offered Jordanians a closer look at European culture and art.
Jun 01,2016
AMMAN — Families will have a wide range of activities to watch and get involved in as the country witnesses a major celebration on Friday to
Newsletter
Get top stories and blog posts emailed to you each day.