You are here
FAO, Agriculture Ministry launch pioneering project for water-saving systems in Jordan
By JT - Feb 10,2020 - Last updated at Feb 10,2020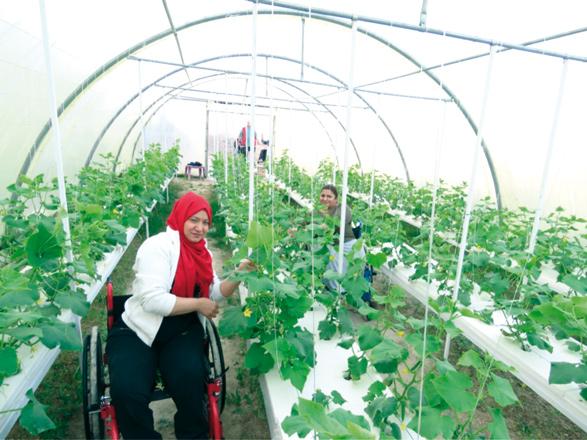 One of the project's goals is to create employment opportunities in aquaponics and hydroponics for youth and women job seekers, according to the FAO (Photo courtesy of FAO)
AMMAN — The Food and Agriculture Organisation of the United Nations (FAO) and the Ministry of Agriculture (MoA) on Monday launched a pioneering project to provide capacity building and technical support for the Integrated Agri-Aquaculture farming systems in Jordan.
According to an FAO statement, the project is designed to train unemployed agricultural engineering graduates and farmers, set up a knowledge base and conduct research on hydroponics and aquaponics farming units.
Hydroponics is the cultivation of plants in water without soil, while aquaponics combines plant cultivation with fish production in the same water, the statement noted.
The project will be implemented in the MoA's Al Faisal Nursery, an agricultural station where women and men have equal opportunity to participate in trainings, workshops and project implementation activities at all levels, the statement said.
The project also aims to create employment opportunities in aquaponics and hydroponics for youth and women job seekers.
In line with a technical cooperation agreement signed between the two parties in early January, the FAO conducted an inception workshop to acquaint stakeholders and programme partners with the scope and outline of the project, titled "Introduction of Aquaponics and Hydroponics in Support of Effective Use of Water".
The workshop was conducted under the patronage of Minister of Agriculture Ibrahim Shahahdeh and attended by a group of stakeholders and government partners, the statement added.
According to Alexis Bonte, FAO Representative Ad-Interim in Jordan, "studies showed that every 1 kg of tomato needs 63 liters of water in conventional agriculture, while it only needs 26 liters in hydroponics."
"This is critical for a country where water is a major challenge for sustainable development," he said in the statement.
"We want to establish a social incubator for hydroponics and aquaponics, where a qualitative shift and a big difference will occur in the agricultural sector," Shahahdeh said.
This joint project comes under the FAO's regional initiatives on water scarcity and its aim to encourage small-scale family farming across the Middle East and North Africa, the statement concluded.
Newsletter
Get top stories and blog posts emailed to you each day.