You are here
FAO closes curtain on north Jordan livelihoods project
By Saeb Rawashdeh - Apr 13,2019 - Last updated at Apr 14,2019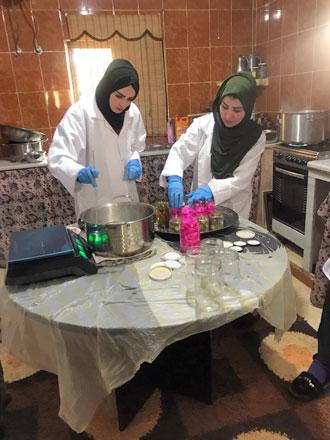 In this undated photo, two beneficiaries of the 'Social Stability and Resilient Livelihoods for Syrian Refugees and Vulnerable Jordanian Farm Families from Hosting Communities' project prepare pickles for sale (Photo courtesy of FAO)
AMMAN — The Food and Agriculture Organisation (FAO) recently held a closing ceremony for a project which established home-based and group-based agri-food enterprises in Mafraq, Irbid and Zarqa.
The businesses were supported under the umbrella of a programme called "Social Stability and Resilient Livelihoods for Syrian Refugees and Vulnerable Jordanian Farm Families from Hosting Communities", which was initiated in April 2018.
The aim of the project was to support Jordanian social stability and local economies by restoring the livelihoods of Syrian refugees and vulnerable Jordanians in the north of the country, FAO Representative in Jordan Nasredin Hag Elamin said at the ceremony, attended by Japanese Ambassador to Jordan Hidenao Yanagi and Minister of Agriculture and Environment Ibrahim Shahahdeh.
Hag Elamin added that the project was linked to the UN's Sustainable Development Goals.
FAO Programme Officer Wafaa Ramadneh said that the project made a direct contribution to the Jordan Response Plan for the Syria Crisis' goal of "addressing the needs and vulnerabilities of Syrian refugees and Jordanian people, communities and institutions affected by the protracted Syria crisis".
The programme's project manager, Amjad Alattar, said the initiative supported 454 families from both the Syrian refugee community and the local Jordanian population in Irbid, Marfraq and Zarqa governorates.
"The focus of the project has been [to improve] awareness, training and the establishment of commercial enterprises where these products could be made and sold to the local market," Alattar noted, adding that 200 beneficiaries were supported to participate in three food exhibitions conducted in Mafraq, Irbid and Zarqa.
"This support was through designing, labelling and packaging materials as well as covering the cost of their participation," the project manager stressed, underlining that 50 beneficiaries were also supported in officially registering their home-based businesses.
"As women we just stayed at home, but now we have job opportunities and income for pickles and jams that we produce under the supervision of engineers. This initiative definitely brought benefits to us and our Syrian sisters," one of beneficiaries of the project said during the ceremony.
Newsletter
Get top stories and blog posts emailed to you each day.