You are here
Fayez affirms immutability of Kingdom's firm stances
Senate president calls for media campaign to uphold Kingdom's positions
By JT - Feb 13,2020 - Last updated at Feb 13,2020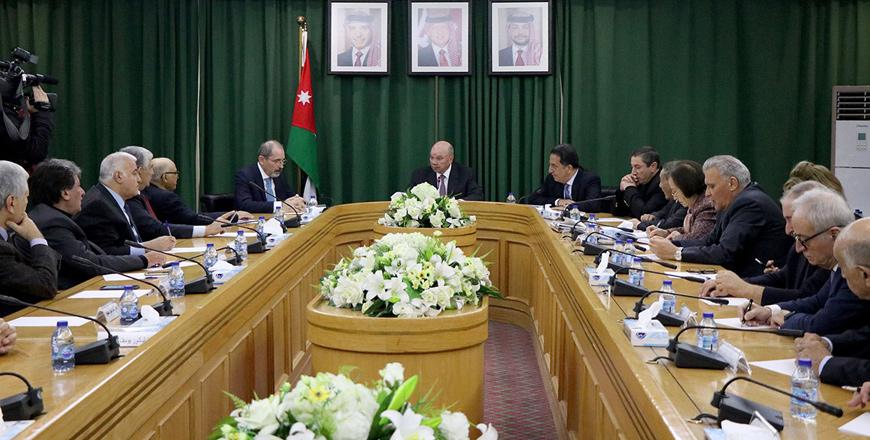 Senate President Faisal Fayez heads a joint meeting of the Upper Chamber's Arab, international and expatriates affairs and Palestine committees on Thursday (Petra photo)
AMMAN — Jordan's unaltered stances cannot be changed, especially as the Kingdom seeks a comprehensive and just peace that meets the aspirations of the Palestinian people and paves the way to end regional crises, Senate President Faisal Fayez said on Thursday.
Heading a joint meeting of the Upper Chamber's Arab, international and expatriates affairs and Palestine committees, Fayez called on the international community to bear its responsibilities and push Israel to resume peace negotiations based on relevant international legitimacy resolutions, the Jordan News Agency, Petra, reported.
During the meeting, attended by Foreign Minister Ayman Safadi, the Senate president commended His Majesty King Abdullah's stances in regards to settling the Arab-Israeli conflict.
He also called on the government to prepare a media campaign contesting any attempts on social media outlets to cast suspicion on the fixed Jordanian positions on national and Arab causes.
Safadi reiterated the Kingdom's stances towards the Palestinian issue, noting that His Majesty also stresses that it is of the highest concern to the Kingdom.
In this regard, the minister said, a just peace accepted by all peoples can only be realised through fulfilling all the legitimate rights of Palestinians according to the two-state solution and the Arab Peace Initiative, which guarantee establishing an independent Palestinian state on the pre-1967 lines.
He also highlighted the importance of the Hashemite custodianship over Islamic and Christian holy sites in Jerusalem in maintaining their Arab identity and preserving the historical and legal status quo.
Newsletter
Get top stories and blog posts emailed to you each day.