You are here
First Jordanian male ballet dancer has 'ambitious vision for local dance scene'
By Camille Dupire - Oct 08,2017 - Last updated at Oct 08,2017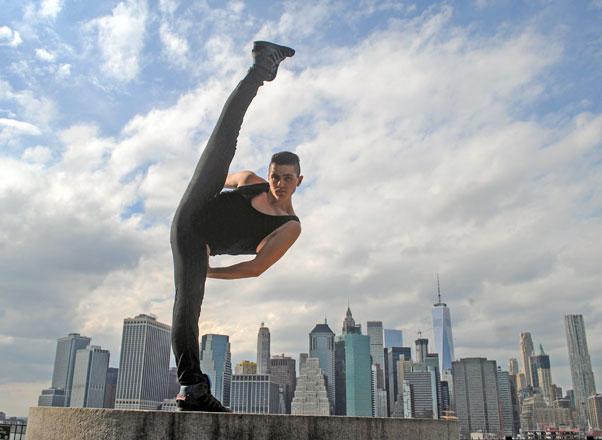 Jordanian ballet dancer Bijan Qutub poses for a photo in New York (Photo courtesy of Raphaella Fernandez)
AMMAN — "My body is my instrument, I express my thoughts and emotions through movement and expressions that words cannot convey," said Bijan Qutub, a 24-year-old known to be the first professionally trained Jordanian male ballet, jazz and contemporary dancer.
Qutub, who is currently studying at the Joffrey Ballet School in New York, recently learned that his personally choreographed piece "unLock" was scheduled to be performed as part of the Royal Cultural Centre's show "WORDS" at the start of November.
A contemporary dance show that he choregraphed for the Amman Contemporary Dance Festival in May, "unLock" is a reflection, through dance, of "the sad reality of what social life has become, and how alienated people are next to each other", the young man said, adding "I feel most alive when I am dancing and I feel like electronic devices have disconnected us from actually living reality, feeling and absorbing sentimental moments like dance."
In an e-mail sent to The Jordan Times, the student explained: "I have grown to value self-discipline, self-control and the need for consistency to dedicate myself to reach the highest standard of artistry, technique and performance." Citing the nine-hour daily professional class exercise routine he has been enduring since he enrolled in the school, he explained that it is a small price to pay for pursuing a passion that "saved his life".
A severely obese child, Qutub used to live secluded in his house, watching television and playing video games all day. At 19, he discovered dance with the popular show "So You Think You Can Dance USA" and it changed his life, he recalled.
"Before I started dancing, I found it hard to express myself or be myself freely. Dance gave me the confidence to be myself not only on stage but in everyday life," said the dancer.
"I have a daily routine of getting up at 5 in the morning, running then going to the gym, before a nine-hour day of dance classes," Qutub explained, stressing his determination to achieve his goals "one day at a time".
Despite the competition he faces at the internationally recognised New York school, the Jordanian said he strives to go "beyond being a professional dancer" in order to be "a better version of himself", building on the successes he has already achieved.
Starting his rise to the New York scene from the Amman based National Centre for Culture and Arts – King Hussein Foundation, the young man was trained by Svetlana Tahboub and Rania Kamhawi, herself the first Jordanian female to ever study in a ballet school abroad, according to Qutub.
As a male ballet dancer, Qutub suffered from the prejudices and mockery of a society that tends to be rejective of unconventional talents. However, this did not make him bitter, which he proves by returning to his home country every year to conduct workshops and dance classes for the public.
"In today's chaotic world, I believe that art can save us," he stated, describing it as "a remedy to all the devastation that is happening".
"In dance, there is a unity in diversity; it builds bridges between different cultures and societies," he continued.
Voicing his hope to see a professional ballet company represent the "authentic and rich cultural history"of the Kingdom, he highlighted the tremendous potential of Jordanian heritage and folklore for a national ballet repertoire.
For the young man, the ultimate goal is "to put the Jordanian flag on the dance map globally". "I have many projects to make dance accessible to all in Jordan, so it can become a sustainable art form that helps others like it helped me," he explained
"My inspiration comes from the resilience of other people's work road to success stories and struggles. In the same way, I want to encourage and inspire peopleto fearlessly go after their passion, in whichever mediums they choose," Qutub concluded.
Related Articles
Mar 26,2015
AMMAN — Bijan Qutb, a unique case of a Jordanian who was admitted to the Joffrey Ballet School in New York, dreams of returning to Amman to
Nov 20,2014
Ann Khalid did not feel well but she insisted on dancing a brief scene from Tchaikovsky's Swan Lake with her classmates. The 12-year-old is determined to one day have a career dancing and teaching ballet, not an easy path in a country torn for years by conflict.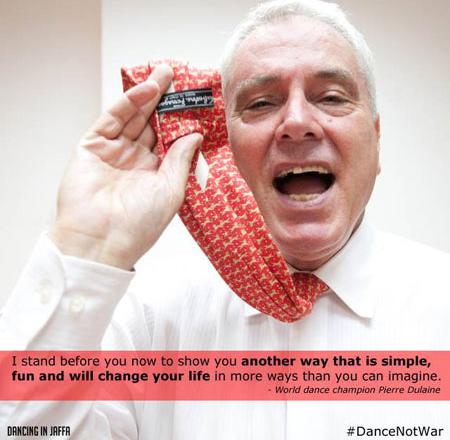 Nov 03,2014
"When I first started dancing, I walked like this," renowned ballroom dancer Pierre Dulaine narrates to a classroom full of children in his award winning documentary "Dancing in Jaffa", his head down and shoulders hunched. 
Newsletter
Get top stories and blog posts emailed to you each day.