You are here
Free interactive app teaches kids basic Arabic literacy skills
By Camille Dupire - Apr 11,2018 - Last updated at Apr 12,2018
Children are seen playing the Antura and the Letters educational game on a mobile phone (Photo courtesy of Antura and the Letters' website)
AMMAN — With some 43 per cent of Syrian school-aged refugee children in Turkey, Lebanon, Jordan, Iraq and Egypt having no access to education as of March 2018, according to a report by international children's rights foundation KidsRights, the need for alternative learning solutions has become crucial to avoid the formation of a "lost generation".
"Antura and the Letters" ("Antura wa Al Huruf" in Arabic), a free mobile and computer game, aims to counter this educational gap by providing an interactive and easily accessible resource to teach reading in Arabic to children aged from five to ten.
Launched in March 2018, the app consists of 23 interactive games covering the full Arabic primary school literacy curriculum, in addition to nine types of quizzes that specifically test and reinforce each acquired subject.
The app targets children's literacy skills including letter and sound recognition, letter decoding and word combinations and vocabulary and oral fluency, according to its developers, who collaborated with educators and psychologists to provide refugees and displaced children an alternative to in-class learning.
Several families from the Arab region were also involved in focus groups to help develop game content that supports the learning needs of children.
"The world is facing a resource catastrophe; with a wealth of potential human capital, creativity and achievement being lost due to regional crises," a KidsRights Foundation representative said, pointing out that the new game seeks to "find a way to limit the consequences of the terrible situation".
And, to the developers' surprise, the app's design ended up reaching to a much wider audience than expected, with over 20,000 downloads and a 4.6 out of 5 rating recorded as of February 2018.
Emmanuel Guardiola, the designer of the game, recalled: "Antura and the Letters was initially conceptualised and designed as an educational application for refugee children who may not have access to regular schooling or require extra assistance in learning Arabic; but, after implementing several tests in Turkey and Lebanon in addition to a third party assessment of pedagogical impact on students in Jordan, we realised that not only was the game being enjoyed by the children, but they also showed significant improvement in their language proficiency and fluency."
He added: "The results from our tests were so promising and effective that we decided to introduce this application to a greater audience that wants to improve their Arabic reading skills all over the world."
Father of a seven-year-old boy Stefano Cecere commented: "My 7-year-old could play most of the mini-games learning basic Arabic letters and words only in a few hours. This is a great start!"
Adults willing to learn Arabic also showed enthusiasm in using the game, like Daniel Gonzalez Lopez who said it was a "very polished and enjoyable app. It's amazing how you can learn Arabic while having so much fun".
To ensure Antura's positive impact on children, a field evaluation developed by All Children Reading: A Grand Challenge for Development and Development and Digital Learning for Development was conducted by Integrated International in partnership with New York University's Create Lab, with the support of UNICEF Innovation, a statement by the organisers said.
"For more than a year now, people from all over the world, the Middle East, North Africa and Europe, have been working together for the same cause — giving the Syrian children a chance for a future after the war," Guardiola stressed, noting that the success of the app shows that "Antura, the character within the game, has become a fun companion for children on their educational journey. This is exactly what we are trying to accomplish by bringing innovation and entertainment into Arabic language education."
Launched through a global collaboration between Cologne Game Lab from the German university TH-Koeln, Video Games Without Borders (VGWB), and Wixel Studio, a Lebanese game development studio, the educational app, which was funded by the Norwegian ministry of foreign affairs, won the international "EduApp4Syria" competition in 2017 and the Titanium Award for the Best Serious Game at the Fun and Serious Festival in 2017.
"Apart from helping children that are out-of-school and the ones in schools, Antura has also helped us prove that it is possible to develop a high-quality humanitarian game in a collaborative way," VGWB founder Francesco Cavallari told The Jordan Times, voicing his hope to see Antura being available in other languages and to regions to "help kids all over the planet".
Related Articles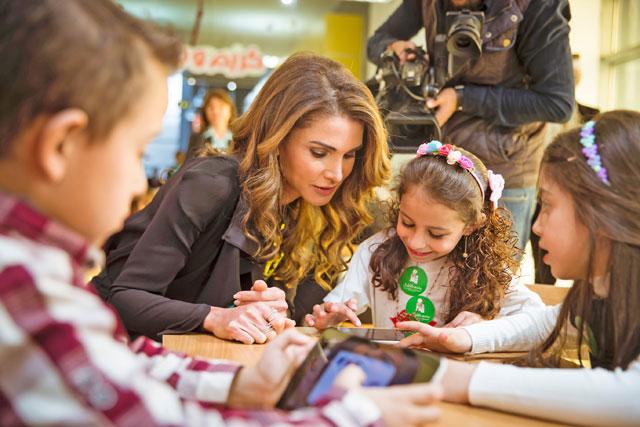 Dec 05,2017
AMMAN — Her Majesty Queen Rania on Monday attended the official launch of "Karim and Jana", a free mobile application developed by the Queen
Jan 14,2018
AMMAN — An educational application developed by the Queen Rania Foundation for Education and Development (QRF) has reached over 100,000 down
Jan 29,2018
AMMAN — At a time when most of the national attention is focused on the impact of formal education on children's development, no one really
Newsletter
Get top stories and blog posts emailed to you each day.