You are here
French school seeks to enrich student learning through art exhibition
By Camille Dupire - Feb 08,2018 - Last updated at Feb 08,2018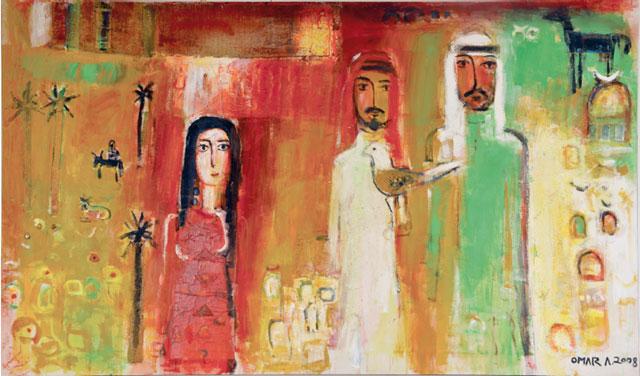 The desire to see school students benefit from the educational power of art prompted the Lycée Français d'Amman to host a permanent art exhibition inside its buildings on Wednesday (Photo courtesy of Dar Al Anda)
AMMAN — The desire to see school students benefit from the educational power of art prompted the Lycée Français d'Amman (LFA) to host a permanent art exhibition inside its buildings on Wednesday.
"When I was a student, I read the following quote by German philosopher Ernst Cassirer: 'Science gives us order in thoughts; morality gives us order in actions; art gives us order in the apprehension of visible, tangible and audible appearances'," recalled Majdoline Al Ghoul, founder of Dar Al Anda, the art gallery that donated the 20 art pieces to the school.
"These words opened my eyes to the importance of the arts in the context of education," she continued, stressing that "in order to get students to understand this region, the most effective method is to expose them to its art and heritage".
The exhibition, which showcases 20 artworks by artists from all over the region, including Iraq, Sudan, Libya, Palestine and Jordan, aims to shed light on the diversity of cultural and artistic influences in the Arab world.
"By sharing samples of creations of Arab artists, we hope to build bridges between East and West through arts and culture," Ghoul noted, praising the school's dedication to "enrich its students' spirit and thirst for art".
Inaugurating the exhibition, French Ambassador David Bertolotti commended the gallery for its donation, saying: "These canvases that brighten the walls of the French High School will improve the framework of studies and life of our students and sensitising them to the field of art".
Topics covered by the artists range from politics to war, mythology and love, among many others, with various creative techniques used to convey the artists' messages.
"The main sources of inspiration for my work come from the mythology of my own culture — the ancient Mesopotamia — which are blended with rituals of my daily life, as well as my dreams and my memories," said Emad Al Dahir, a sculptor from Baghdad.
"I borrow the beauty from formal and aesthetic qualities of old ancient sculptures as well as the languages and forms of modern sculpture such as those of Giacometti [a noted Swiss sculptor], transforming them into new contemporary language and spicing them with an 'Iraqi style'," he continued.
The LFA, which welcomes a one-third French one-third of Jordanians and one-third of other nationality, is "deeply anchored in the Jordanian society", Bertolotti noted, stressing the educators' attention to provide courses connected to the realities and history of the Kingdom.
The ambassador also praised the trilingual establishment for its "openness to history and civil society" and voiced France's "deep attachment" to its ties with Jordan at all levels.
Artists exhibited include Tahseen Al Zaidy, Abdul Qader Bakhet, Abbas Gahanem, Mohammad Abu Afifa, Ahmed Nsayef, Ghandi Al Jebawi, Shaiban Ahmad, Omar Odeh, Ahmad Ghareeb, Sattar Darwish, Walid Hassan, Jaber Al Sarrai, Dia'a Al Khazaie, Baqer Al Shaikh, Haitham Hassan, Ghadeer Saed and Emad Al Dahir.
Related Articles
Sep 24,2016
AMMAN — Several Jordanian artists presented their work at the seventh Beirut Art Fair last week, exhibiting contemporary art, handicrafts, s
Mar 23,2017
AMMAN — As part of the celebrations of the International Francophonie Day, a photo exhibition depicting the works of Romanian sculptor and a
Nov 20,2016
AMMAN — The second French Week will kick off its activities in Amman on Monday with cultural, musical and artistic events scheduled to take
Newsletter
Get top stories and blog posts emailed to you each day.