You are here
'Future religious leaders to be trained in peacebuilding and tolerance'
By Rula Samain - Feb 21,2017 - Last updated at Feb 21,2017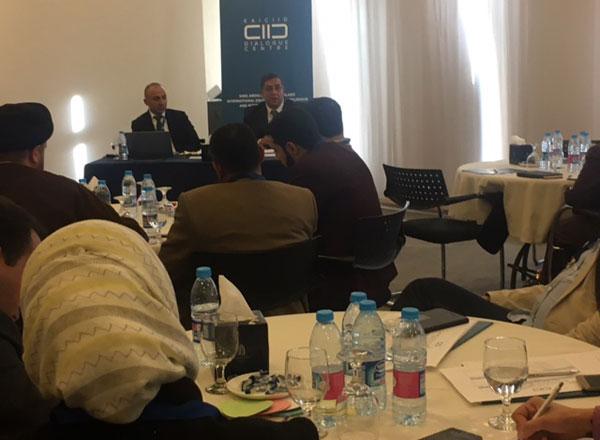 Officials from King Abdullah Bin Abdulaziz International Centre for Interreligious and Intercultural Dialogue launch an International Fellows Programme for the Arab world in Amman on Sunday (Photo by Rula Samain)
AMMAN — In a quest to enhance conflict prevention and peacebuilding between individuals, an International Fellows Programme for the Arab world was launched on Sunday to empower institutions to train future religious leaders.
The programme is designed and developed by the King Abdullah Bin Abdulaziz International Centre for Interreligious and Intercultural Dialogue (KAICIID).
Mohammad Abu Nimer, KAICIID senior adviser, said during the event's opening that the programme seeks to promote dialogue and spread a culture of help and respect for others.
"We try to find solutions to political and social issues by achieving a balanced dialogue between religious institutions and political decision makers," said Abu Nimer.
He added that in order to achieve these goals, "we bring together young religious leaders from different religious, geographic, linguistic and cultural backgrounds, to build a spirit of understanding and cooperation".
Abu Nimer said that the programme does not seek to provide answers to conflicts, but instead to facilitate dialogue and train participants to address intolerance and promote understanding.
"True change starts from within the person, [and] then the organisations the participants belong to, in order to change its thinking towards tolerance and understanding of the other," Abu Nimer said.
He added that the hope is that change will spread throughout society and worldwide, which will require comprehensive planning and additional efforts beside KAICIID's.
KAICIID is an intergovernmental organisation which works globally to promote dialogue in order to prevent and resolve conflict and to enhance understanding and cooperation, according to its website.
The five-day event will host 25 participants, both men and women, representing educational and religious institutions from across the region.
Anas Abbadi, senior programme manager of the Fellows Programme, said that the one year programme, started in 2015, has been a success in over 16 countries around the world.
"Success is difficult to measure, but the programme started with 20 participants representing five religious backgrounds, who first met as strangers, but left as colleagues and friends," he said.
Abbadi told The Jordan Times that the fellows were given training not only on how to overcome challenges when teaching dialogue, but also on how to promote peace building and conflict prevention through the use of social media.
After these initial successes, KAICIID then launched an Arabic-language version of their programme from Amman, Abbadi, who is also a trainer, explained.
"The KAICIID Fellows Programme is our contribution to mentoring the next generation of religious leaders: a generation that we hope will be equipped with the skills to engage in interreligious dialogue and to translate the benefits of transformative dialogue into concrete change for their communities," wrote KAICIID Secretary General Faisal Bin Muaammar in the International Dialogue Centre year book in 2015.
Related Articles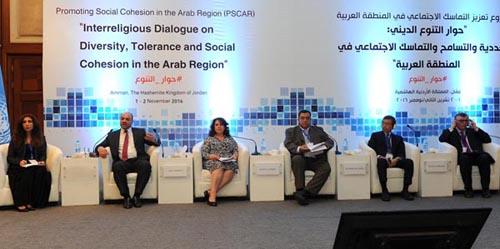 Nov 01,2016
AMMAN — Jordan has been at the forefront of efforts to push interfaith dialogue forward and implement initiatives to counter extremism, a se
Nov 30,2016
AMMAN — The "Peacebuilding in Jordan" conference, co-organised by the Royal Institute for Inter-faith Studies and the Mennonite Central Comm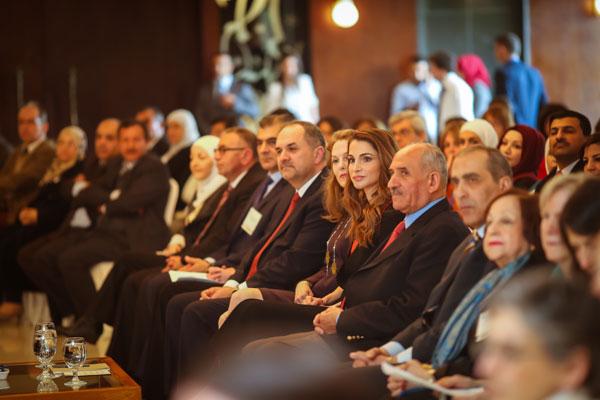 Mar 17,2016
AMMAN — There is a great need to invest in young children in order to develop their abilities and the future of their societies, said Ann S.
Newsletter
Get top stories and blog posts emailed to you each day.