You are here
GAM to float BRT tender for overpass at Sahafeh tunnel
Municipality will work to maintain smooth traffic during construction on Queen Rania Street — official
By Hana Namrouqa - Jun 06,2017 - Last updated at Jun 06,2017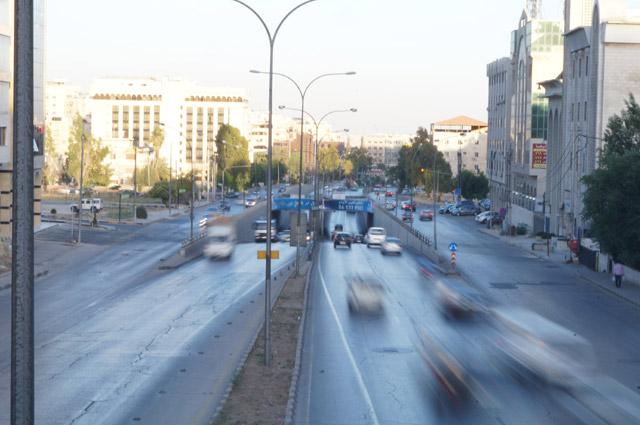 Construction work on the overpass at the Sahafeh tunnel on Queen Rania Street will begin in July, according to a municipal official (Photo by Eoin Wilson)
AMMAN — Construction work on an overpass at the Sahafeh tunnel on Queen Rania Street will begin in July, under the Bus Rapid Transit (BRT) project, a municipal official said on Monday.
The overpass will be for dedicated use of the BRT, the project's director Riyad Kharabsheh said, noting that two stations will also be established under this phase.
"In addition to the overpass, which will only serve BRT traffic, two stations will be established as part of the upcoming phase; one station will be on the upper level of the bridge while another will be built as a feeder service for buses," Kharabsheh told The Jordan Times over the phone.
GAM will float the phase's tender before the end of this month, according to the municipal official.
"Construction will commence right after Ramadan. Implementation of this phase is expected to last a year," he underscored.
The municipality will work to maintain smooth traffic flow while construction is in process on this busy part of Queen Rania Street, Kharabsheh said.
Another two tenders will be floated within two months for the construction of the Sweileh station and the implementation of the Sports City circle's phase, he added.
"I expect that all of the BRT project's tenders will have been floated by the end of the first quarter of next year," Kharabsheh underlined.
The BRT project is part of the municipality's solution to ease traffic congestion, according to GAM, which is also exploring the idea of an underground railway system.
The BRT project will have a capacity of 120 passengers per bus, serving almost 25km of Amman's streets, according to GAM officials, who said the transport system should benefit Amman's residents for at least the next 20 years.
Construction of the project started in 2010, but was halted and delayed several times due to technical reasons.
"The project is scheduled to be operational by 2019 at the latest," Kharabsheh said.
Related Articles
Oct 01,2017
AMMAN — The Greater Amman Municipality (GAM) is scheduled to float two tenders this week for the construction of overpasses above the Sports
Oct 10,2017
AMMAN — Traffic via the Sahafeh tunnel on Queen Rania Street will be closed as of Friday under the fourth phase of the Bus Rapid Transit (BR
Dec 16,2017
AMMAN — Forty per cent of the construction of the Sahafa (Press) Tunnel overpass of the Bus Rapid Transit (BRT) has been accomplished, the J
Newsletter
Get top stories and blog posts emailed to you each day.