You are here
GAM probes BRT construction mishap; no injuries reported
By Bahaa Al Deen Al Nawas - Sep 17,2019 - Last updated at Sep 17,2019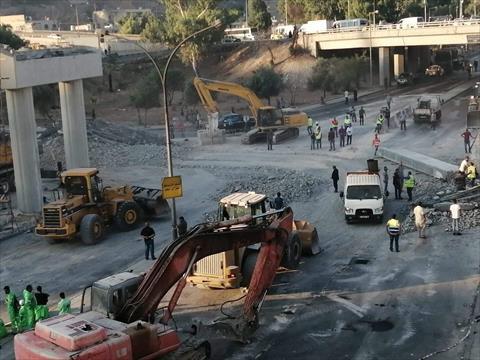 On Monday night, a pre-cast concrete girder slipped during its installation on Army Street in Amman, with no injuries reported (Petra photo)
AMMAN — The Greater Amman Municipality (GAM) said that a pre-cast concrete girder slipped during its installation on Monday night on Army Street, with no injuries reported.
The installation process was filmed, and there will be a review of all the technical measures taken in order to determine who is responsible for the error, GAM said in a statement sent to The Jordan Times on Tuesday.
Amman Mayor Yousef Sharawbeh said that the error occurred while installing the pre-cast girder as part of the Bus Rapid Transit (BRT) project.
Project Director Riyad Kharabsheh noted that traffic returned to normal after the incident was handled, according to the statement.
Later on Tuesday, during a workshop held at the Jordanian Society for Science and Culture, Shawarbeh announced that GAM allocated JD4 million this year to support the public transport sector, and the budget could increase next year.
He said when public transport reaches the city's outskirts, it could bring development and encourage investors to build projects outside the city at lesser costs.
GAM's strategy that was prepared three years ago and ends at the end of 2020 covers public transport, legislation development and e-transformation and investment, which Shawarbeh said are separate from daily tasks and responsibilities related to services and infrastructure.
On public transport, he said the focus now is on the BRT's infrastructure, which will be complete at the end of next year except for the Tareq intersection area in Tabarbour due to the late floating of the tender.
He also highlighted GAM's Amman Vision Investment and Development Company's work in running 135 public transport "Amman buses" after studying daily traffic in the capital, affirming that an additional 151 buses will be added to the services this October with e-payment and accessibility for people with disabilities, in addition to having two monitoring cameras installed, one directed at the driver and payment device and the other at the rest of the bus.
In two weeks, the three-month trial period for the Amman buses will end, the mayor said, noting that afterwards screens will be installed at the bus stops in order to indicate arrival times.
Newsletter
Get top stories and blog posts emailed to you each day.