You are here
'GAM sealing abandoned buildings in Zahran area'
By JT - Feb 29,2016 - Last updated at Feb 29,2016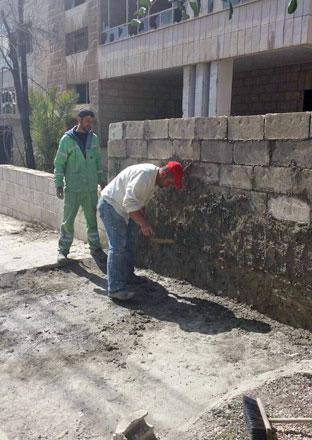 Greater Amman Municipality employees work on an abandoned building in the capital recently (Photo courtesy of GAM)
AMMAN — The Greater Amman Municipality (GAM) on Monday said it has started a campaign to close abandoned buildings in Zahran area in Jabal Amman, as some old properties have become places for "negative practices and health hazards".
A GAM statement quoted Zahran area manager Khaled Kassad as saying that municipality cadres have closed several deserted properties after receiving complaints from residents, adding that there are 33 abandoned buildings in the area.
He said GAM has coordinated with the concerned authorities — the Department of Land and Survey and security agencies — to contact the landlords, who have been warned and urged to repair and close their vacant properties, adding that some buildings were closed after the owners did not respond.
"Such properties have become health hazards due to garbage accumulation, while others are used by people at night for negative practices," Kassad said in the statement.
In November 2014, The Jordan Times published a report on abandoned buildings in the capital after a reported rape attempt at such a building between the 4th and 5th circles in Jabal Amman.
In the report, officials from the municipality and police described deserted buildings as a "headache" for both agencies as they have become crime sites and health hazards filled with garbage.
There are over 1,000 abandoned buildings in the capital, some of which provide shelter to drug dealers and users, and have been reported as scenes of sexual assaults and even murders, Raed Haddadin, director of the building control department at GAM, told The Jordan Times at the time.
He said the reason most of these abandoned buildings are neglected is mainly because they were inherited by a number of heirs, indicating that the majority of the properties were built some 70 to 80 years ago.
Related Articles
Dec 08,2014
The Greater Amman Municipality (GAM) on Monday urged owners of abandoned old buildings to repair and lock their properties as they pose a danger to public safety and health. 
Mar 24,2015
The response of owners of abandoned buildings to an appeal by the Greater Amman Municipality (GAM) to clean up or lock their properties has been "disappointing", according to a municipal official. 
Nov 26,2014
A reported failed rape attempt at an abandoned building in Amman on Tuesday has exposed a "dangerous" phenomenon of abandoned buildings, which is a "headache" to both the municipality and police, officials from both institutions acknowledged.  
Newsletter
Get top stories and blog posts emailed to you each day.