You are here
GAM warns against buying street vendors' 'unsafe' produce
By Hana Namrouqa - Oct 24,2017 - Last updated at Oct 24,2017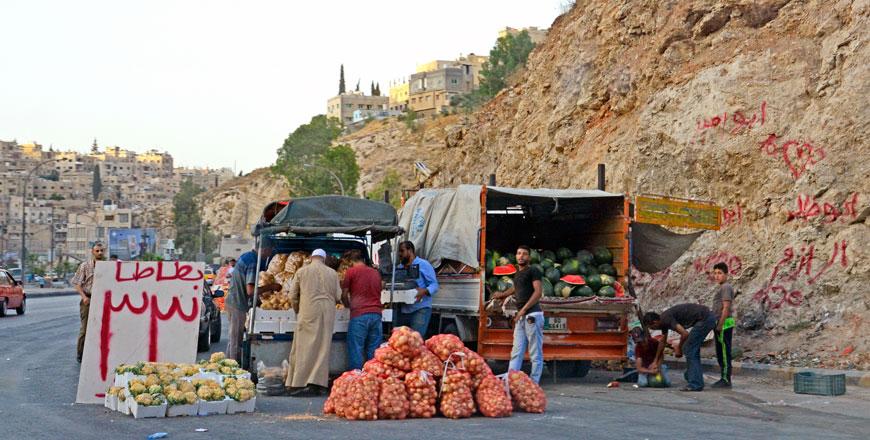 Greater Amman Municipality on Monday urged the public to refrain from buying agricultural produce sold by street vendors on pickup trucks (Photo by Amjad Ghsoun)
AMMAN — The Greater Amman Municipality (GAM) on Monday urged the public to refrain from buying agricultural produce sold by street vendors on pickup trucks.
The municipality said that street vendors are unlicensed to sell food items and therefore there is no monitoring or control over the quality of their merchandise.
"It is illegal to sell food items such as fruits and vegetables to the public without obtaining a licence. In addition, selling agricultural produce whose origin is unidentified and didn't get inspected jeopardises public health," head of GAM department for the control of random selling, Ahmad Ebini, told The Jordan Times.
"Agricultural produce sold on pickup trucks is also exposed to heat and direct sunlight which causes it to perish much faster," Ebini said.
"The municipality seizes and confiscates food items sold by street vendors and issues fine up to JD1,000," Ebini noted.
He said that GAM and the Royal Rangers on Monday seized and confiscated six tonnes of potatoes in Qweismeh in east Amman.
The municipality, in cooperation with the Ministry of Agriculture's office at the central market, destroyed the "rotten potatoes" which were unfit for human consumption.
However, consumers have different preferences.
Um Karim, a mother-of-four , said that she occasionally buys vegetables from street pickup trucks.
"It is difficult for me to leave the house in the middle of the day sometimes to grab one or two kinds of vegetables, especially since the convenience store is a little far away from my residence. Therefore, I wait for the pickup truck to cross my street and call out for the driver," Um Karim, who lives in Jabal Al Hussein, told The Jordan Times over the phone.
Almost all kinds of vegetables are sold behind pickup trucks, she said, noting that often vegetables are sold at a higher price.
"I know that they cheat on me with the prices but sometimes I am forced to buy from street vendors under certain conditions," Um Karim said
Her neighbour Randa Kasim, a homemaker, said she prefers buying from a certain vendor who passes by her street every morning.
Kassim said that she decides what to cook in the morning and when the vendor passes she stops him and buys fresh vegetables.
"He knows me well and now gives special discounts."
Related Articles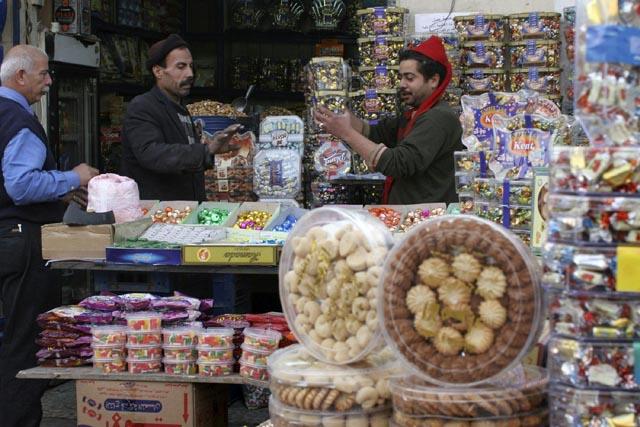 Jul 21,2014
The Greater Amman Municipality (GAM) on Monday began intensifying its inspection campaigns on sweets shops with the approach of Eid Al Fitr holiday.  
Aug 25,2015
AMMAN — The Greater Amman Municipality (GAM) has intensified its field inspections targeting street vendors and illegal kiosks on the airpor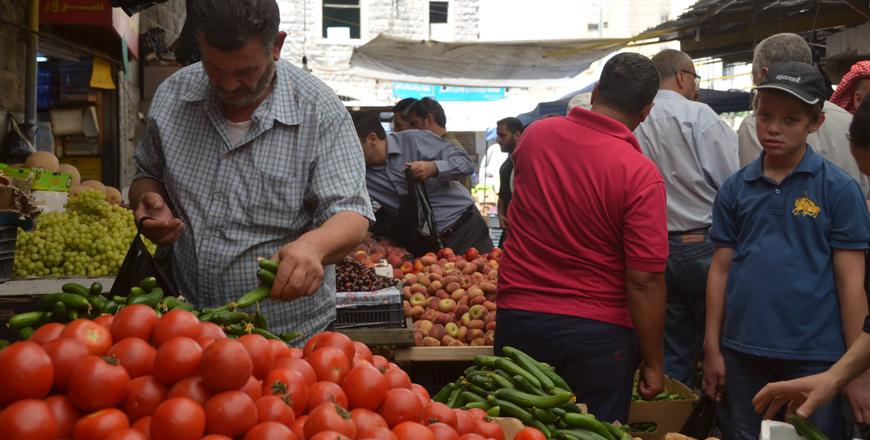 Oct 07,2015
AMMAN – As consumers have been complaining of rising vegetable prices, an official predicted that retail prices would remain high this month
Newsletter
Get top stories and blog posts emailed to you each day.