You are here
German institute exposes visitors to Jordan's archaeology, history
By Dana Al Emam - May 09,2015 - Last updated at May 09,2015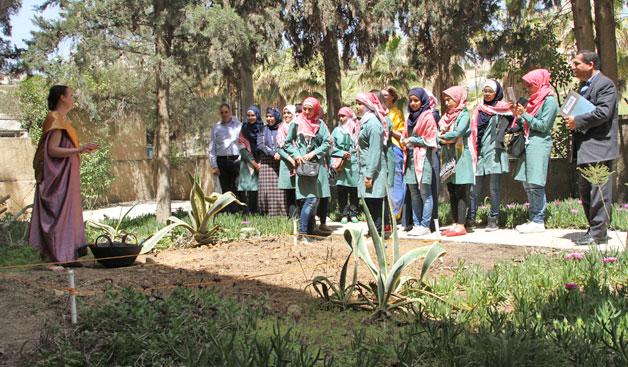 AMMAN — For Aseel Mohammad, learning about successive civilisations that inhabited Jordan does not only add to her historical knowledge, but also boosts her pride and sense of belonging to the country.
The 10th grader, along with her classmates, took a tour of the German Protestant Institute of Archaeology (GPIA) on Saturday, during which they learned about civilisations that inhabited Jordan, starting with the Neolithic period (8500-4500 BC) and until the Islamic period (636 AD to the present day).
"Participating in this activity has taught me about the cultures of these various civilisations, including their dressing-style and their everyday tools," Mohammad told The Jordan Times while creating her own piece of mosaic.
Dubbed "An Archaeological Market Day", the GPIA event was aimed at introducing archaeology to schoolchildren by involving them in several hands-on activities including pottery production, mosaic making, Roman dressing and mock archaeological excavations, according to the institute's director, Frauke Kenkel.
Commenting on the one-day activity, German Ambassador to Jordan Ralf Tarraf highlighted the significance of engaging the younger generation in learning more about archaeology — "one of the treasures of this country".
What distinguishes Jordan as a tourism destination is that "culturally refined" tourists with historical interest and a desire to meet local residents make it a point to visit and learn more about past civilisations, according to Tarraf.
"Archaeology is an important topic to get people interested in other countries. Europeans and Germans in specific feel that the Mediterranean is part of our history as well," he said, citing trade cooperation between the two regions throughout history.
Tarraf underscored the role of archaeology in promoting open-mindedness across different cultures and countries, "especially today when the picture of people from other cultures is often misused to further political aims for confrontation".
He noted that the GPIA and the German Archaeological Institute work on various archaeological digs in several areas around the Kingdom, in close coordination with the Department of Antiquities, a working relationship that dates back over 50 years.
The embassy provides funding to German archaeologists who want to excavate in Jordan, after studying the submitted proposals, the ambassador said, adding that German Professor Thomas Maria Weber, who teaches at the University of Jordan, is currently working on reconstructing a wall at Hallabat, which dates back to the Byzantine era.
The GPIA, which started operating in Amman in 1975, has provided assistance to German archaeologists on their digs in Jordan, according to Kenkel, who cited a project in Gadara in Um Qais and another in Tal Ziraa as two of the major excavation projects for German archaeologists.
Saturday's activity was within the framework of "German Week 2015" that started on May 4 and concludes on May 10.
Related Articles
Jul 01,2016
AMMAN — Germany's intellectual curiosity about the holy land dates back to the arrival of German orientalists in the early 19th century, and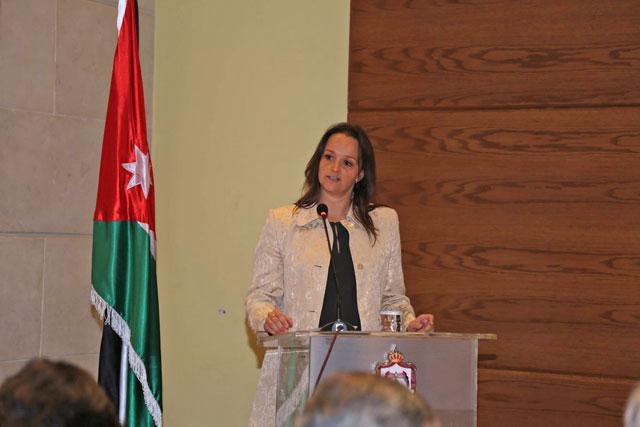 Mar 06,2018
AMMAN — Two German books — "Das Geheimnis des Tells" (Secrets of the Tell) and "Tell Ziraa: The Gadara region Project (2001-2011)" — were la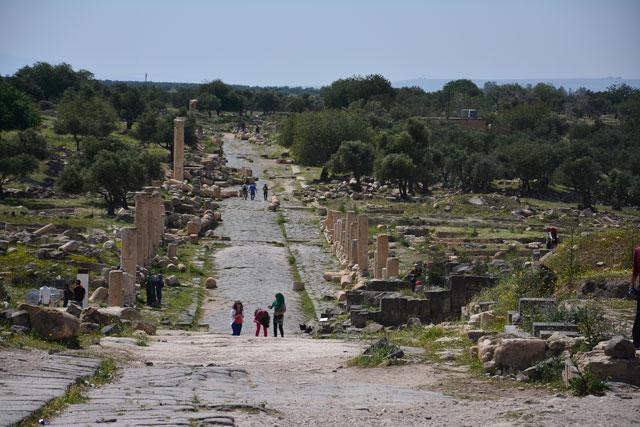 Feb 01,2017
AMMAN — In addition to authorities' efforts to conserve antiquities and archaeological sites, public awareness and people's commitment to co
Newsletter
Get top stories and blog posts emailed to you each day.