You are here
Gov't develops programme to increase women participation in labour market — Murad
By Ana V. Ibáñez Prieto - Mar 08,2018 - Last updated at Mar 08,2018
AMMAN — Labour Minister Samir Murad on Tuesday said that the government has developed an executive programme aimed at increasing the participation of women in the labour market, citing the "pivotal" contribution of women to improving the national economy.
The remarks came during ​the opening of the first "Together to Improve the Status of Jordanian Women in the Labour Market" forum, where the minister explained that the government is adopting several measures to support this concept, highlighting that "advocating for the employment of women is a successful step to combat poverty and walk towards progress".
"The ministry supports the establishment of nurseries in both the private and public sectors in order to motivate women to participate in the labour market," Murad said, adding that "we also support a more gender-sensitive legal framework for women at the workplace, in parallel with the discussion of the temporary Labour Law that is currently taking place in the Lower House".
The Jordanian National Commision for Women (JNCW) secretary general, Salma Nims, told The Jordan Times that the organisation is "happy to see the intentions of the government to focus on improving women's access to the labour market".
"However, we still need to see these intentions turn into real action on the ground in the form of new policies and amendments to the Labour Law," Nims said, adding that "in order to break the structural barriers, we also need actions at the administrative level to ensure that the legislation is enforced and the private companies abide by it".
Nims also stressed the need to amend Article 12 of the Labor Law so that the children of Jordanian women married to foreigners can be treated as Jordanians in terms of labour.
For her part, executive team member of the NGO SADAQA Sahar Aloul told The Jordan Times that the organisation "warmly welcomes the government's intention to bring more women into the labour force. SADAQA is very optimistic about being under this guidance and progressive agenda".
"We will continue to work in order to overcome the three structural barriers that prevent women from joining the labour market," Aloul added, stressing the need to find solutions for the lack of transport to the workplace, pay equity and children daycares.
Related Articles
May 18,2017
AMMAN — Experts and parliamentarians on Thursday discussed the adoption of different models for workplace daycare centres, in order to boost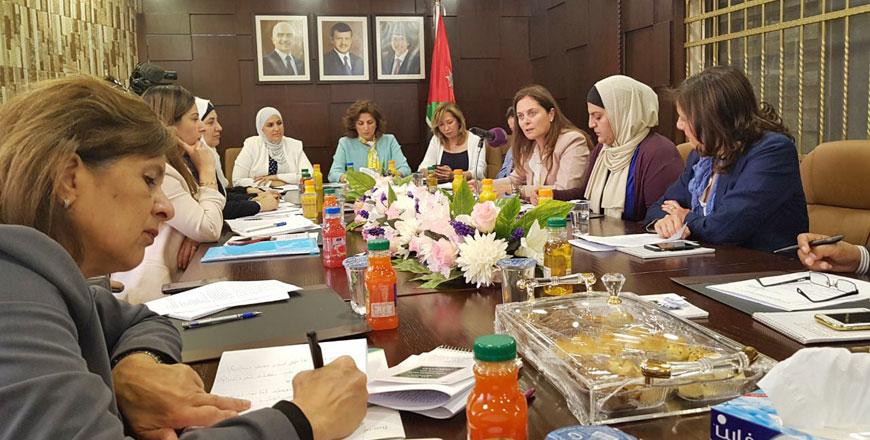 Apr 05,2018
AMMAN — The women's movement in Jordan on Wednesday launched a coalition to work on increasing female participation in the labour market and
Nov 18,2017
AMMAN — The Ministry of Labour on Wednesday renewed a Memorandum of Understanding (MoU) with SADAQA, a non-profit organisation advocating fo
Newsletter
Get top stories and blog posts emailed to you each day.