You are here
Gov't disputes FAO report on Jordan's annual wheat imports
By Khetam Malkawi - Jul 06,2014 - Last updated at Jul 06,2014
AMMAN — The government on Sunday disputed a FAO report that said Jordan's wheat imports have been at the same level for the past five years, stressing that they rose gradually over the past three years.
Yanal Barmawi, spokesperson of the Ministry of Industry, Trade and Supply, told The Jordan Times that wheat imports rose from around 800,000 tonnes per year to over 1 million tonnes.
This increase, he said, is to meet the rising demand for bread caused by the presence of more than 1 million Syrians in Jordan.
But a FAO report, a copy of which was sent to The Jordan Times on Sunday, says the Kingdom's wheat imports are estimated at about 800,000 tonnes, about the same level as the last five years' average during which the policy change of higher strategic stocks was implemented.
The report added that following the price hikes of 2007-08, Jordan increased its strategic reserve of wheat from three to 10 months as a precaution against future increases in food prices.
Barmawi said Syrians and other non-Jordanians residing the country benefit from the government's flour subsidy.
One tonne of flour costs the government JD330, but it sells it to bakeries for JD32, the spokesperson said.
FAO confirmed that despite the budget deficit and the increased presence of Syrian and Iraqi refugees in Jordan, wheat bread remains fully subsidised with the price fixed at $0.22 per kilogramme.
Official figures estimate that more than 600,000 Syrians have sought refuge in Jordan since the onset of the conflict in their country in March 2011.
There is a similar number of Syrians living in the Kingdom who are not registered as refugees. Authorities put the overall number of Syrians in the Kingdom at around 1.3 million.
Related Articles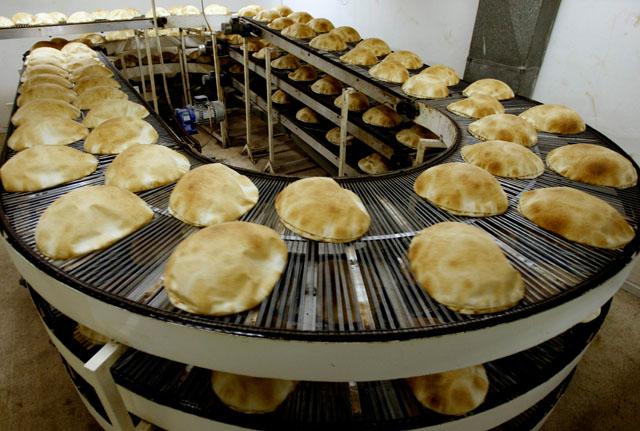 Apr 10,2014
Wheat imports increased by nearly 30 per cent over the past two years due to the "large" influx of Syrian refugees, a government official said on Thursday.
Oct 04,2015
AMMAN — Minister of Industry, Trade and Supply Maha Ali said on Saturday that when there is a significant drop in grain prices on the global
Mar 03,2016
AMMAN — By intensifying inspection campaigns on violating bakeries and wheat mills, the Industry, Trade and Supply Ministry saved around JD2
Newsletter
Get top stories and blog posts emailed to you each day.