You are here
Gov't offers compromises to lawmakers in a bid to pass price hikes
House financial panel to set mechanisms for cash subsidy
By JT - Dec 05,2017 - Last updated at Dec 05,2017
AMMAN — The government on Monday agreed with the Lower House's Financial Committee that the latter handle setting the mechanisms to distribute the JD171 million allocated in the draft budget law to beneficiaries of the social safety network.
The decision is among four understandings that were reached during a meeting between Lower House Speaker Atef Tarawneh and Prime Minister Hani Mulki, attended by key lawmakers and concerned ministers, the Jordan News Agency, Petra, reported.
The JD171 million will make up for rising cost of living brought about by lifting subsidies on commodities that have been a fixture in the economic system for decades, mainly the bread subsidy.
The second understanding is to keep exemptions of ownership transfer fees on apartments whose areas do not exceed 150 square metres, while the third is granting beneficiaries of the National Aid Fund a monthly kerosene subsidy of JD2 during winter.
The fourth agreement is exempting electricity subscribers whose consumption does not exceed 160 kilowatts per hour from the JD0.004 raise that went into effect as of Friday, as a result of the increase in oil prices to rates over $55 per barrel.
In December 2016, the Energy and Minerals Regulatory Commission announced adopting a scenario for electricity tariffs that will see lower rates for major consumers, while it will increase the tariffs "for all sectors" in case the price of a crude oil barrel exceeds the set limit.
In remarks to the press following the meeting, Tarawneh said that the past 24 hours saw a series of meetings and conversations between lawmakers and the government over national issues.
He noted that these understandings will be referred to other MPs to give their views after they are studied by the Chamber's Financial Committee.
Related Articles
Dec 06,2017
AMMAN — A group of MPs on Tuesday again set a government's cancellation of the increases to electricity and fuel prices as a precondition to
Nov 30,2017
AMMAN — The Energy and Minerals Regulatory Commission (EMRC) on Thursday announced that the average price of a crude oil barrel in September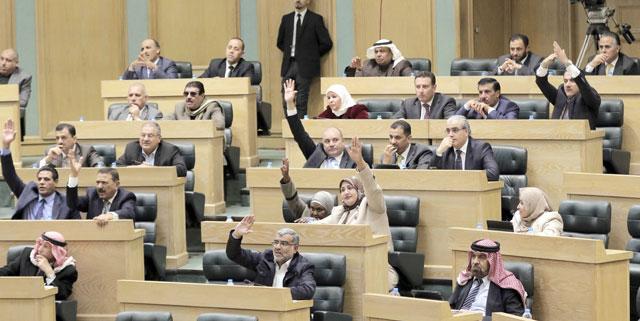 Dec 27,2017
AMMAN — The Lower House Financial Committee on Tuesday presented its report on the draft laws for the state budget and the budgets of indepe
Newsletter
Get top stories and blog posts emailed to you each day.