You are here
Gov't reiterates commitment to human rights
By Mohammad Ghazal - Nov 09,2015 - Last updated at Nov 09,2015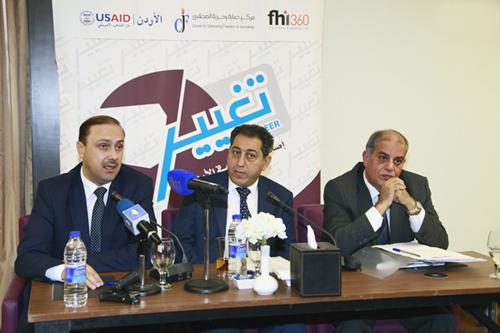 Minister of State for Media Affairs and Communications Mohammad Momani addresses a session held by the CDFJ Monday (Petra photo)
AMMAN — Human rights and freedoms are at the top of Jordan's priorities and the government pledges continued efforts in these areas, Minister of State for Media Affairs and Communications Mohammad Momani said Monday.
The government has made significant steps in enhancing and protecting human rights, the minister said during a session held by the Centre for Defending the Freedom of Journalists (CDFJ).
The purpose of the session was to review the government's progress in implementing recommendations made by countries at the UN Universal Periodic Review of the Kingdom's human rights record in Geneva in October 2013.
Momani, who is also government spokesperson, said Jordan accepted 126 out of 173 recommendations made by countries at the 2013 UN review, while it refused 34 recommendations and is currently studying the remaining 13.
Basel Tarawneh, the government's coordinator for human rights, said all ministries and public agencies have begun conducting periodic reviews of their legislation to be in line with international charters and conventions and Jordan's commitments to human rights, including those from the UN review.
CDFJ President Nidal Mansour stressed the importance of partnerships between public agencies, civil society organisations and media outlets in enhancing human rights in the Kingdom.
Speaking at the session, Mansour noted that while Jordan received only one recommendation on improving media freedom at the 2009 UN Universal Periodic Review, it received 18 such recommendations at the 2013 review.
The government accepted 15 of the recommendations and voiced reservations over three, he said at the session, which attracted judges, lawyers, officials, legislators and media personnel.
One of the recommendations that drew reservations concerned measures to enhance and support the freedom and independence of the media, especially electronic media, and to consider cancelling a provision requiring websites to register with the government, according to a CDFJ document presented during the session. Jordan also voiced reservations over scrapping recent amendments to the Penal Code, the Electronic Crimes Law and the Press and Publications Law and removing financial obstacles facing media outlets.
Some of the recommendations accepted by the government involve cancelling or amending all articles in the Penal Code that impose "blatantly unfair" restrictions on freedom of expression, as well as amending the Press and Publications Law to ensure full protection for freedom of expression and to reduce restrictions imposed on publishing information on the Internet, according to the CDFJ document.
Related Articles
Aug 22,2015
AMMAN — With the government stressing that it is working to ease access to information, a watchdog said current efforts are insufficient, ca
Mar 15,2014
Media professionals, lawmakers and legal experts on Saturday urged the government to spearhead serious efforts to honour its commitment to implement international recommendations related to freedom of the press.
Mar 16,2014
Media professionals, lawmakers and legal experts on Sunday proposed the creation of a council to settle disputes between media outlets and any individuals or groups.
Newsletter
Get top stories and blog posts emailed to you each day.