You are here
Gov't urged to scrap 'customs service fee' on imports from Arab countries
By Mohammad Ghazal - Apr 05,2015 - Last updated at Apr 05,2015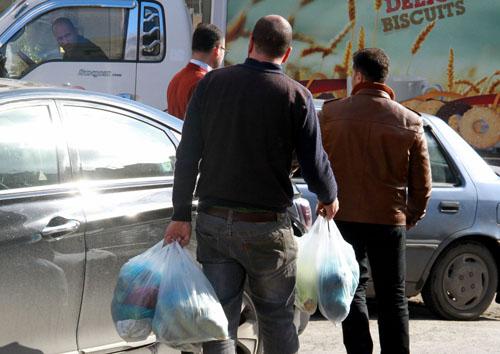 AMMAN — The Foodstuff Traders Association on Sunday called on the government to annul a fee imposed on commodities imported from Arab countries, in a bid to lower prices and ease burden on traders.
In 2014, the government took a decision to impose 1 per cent as a customs service fee on all commodities imported from Arab states, Khalil Haj Tawfiq, the association's president, told The Jordan Times.
The government exempts US and European imports of this fee, but goods coming from Arab states continue to be subject to it, Haj Tawfiq said.
"We urge the government to exempt commodities from the Arab states as well. Why not exempt Arab commodities like US and European commodities?" he asked in a phone interview.
"The fee imposed is in return for customs services, but the customs authorities do not provide any kind of service related to these imported commodities, so there is no need to impose this fee," Haj Tawfiq added.
An exemption decision will reduce prices in the local market, he argued, especially since Jordan imports basic food items from Arab countries.
Haj Tawfiq indicated that Jordan imported JD3 billion worth of food commodities in 2014, adding that imports from Arab countries represented a "fair" share, particularly from Saudi Arabia.
The sector representative did not have exact figures on the volume of imports from Arab markets.
Jordan mainly imports rice, sugar, beans, grains, meat, fish, milk, cooking oil and canned food items from Arab countries, according to Haj Tawfiq.
He added that the current difficult economic conditions require government support for the foodstuff sector to increase food stocks, while imposing such a fee increases the burden on traders.
Related Articles
Feb 14,2017
AMMAN — Sector representatives voiced mixed reactions towards the expected impacts of the recent amendments to by-laws governing customs dut
Oct 25,2015
AMMAN — A consumer advocate and the syndicate representing food traders on Sunday expressed "surprise" at a recent government decision that
Feb 11,2017
AMMAN — The Foodstuff Traders Association (FTA) on Saturday said it has received assurances from the government that 80 per cent of basic fo
Newsletter
Get top stories and blog posts emailed to you each day.