You are here
Gov't e- service gateway Sanad app's new version launched
By JT - Sep 23,2020 - Last updated at Sep 23,2020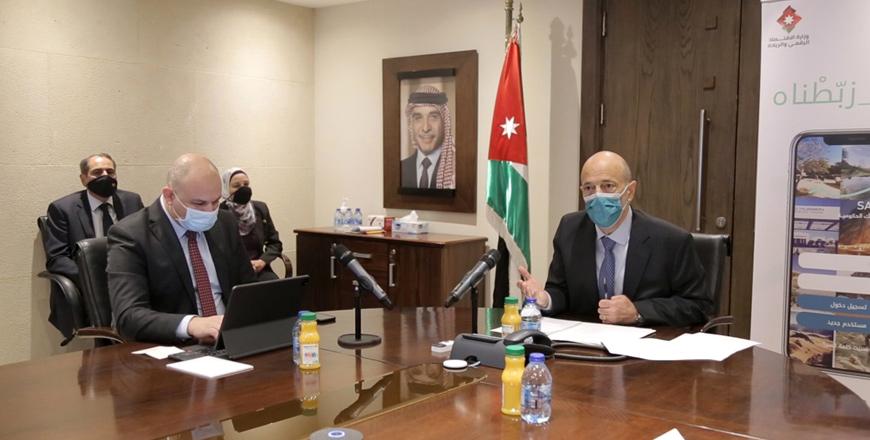 Prime Minister and Minister of Defence Omar Razzaz attends a virtual launching ceremony of the new edition of the flagship e-government service gateway app Sanad on Tuesday (Petra photo)
AMMAN — Prime Minister and Minister of Defence Omar Razzaz on Tuesday attended a virtual launching ceremony of the new edition of the flagship e-government service gateway app Sanad.
The prime minister said the app now offers speedy service delivery and spares service recipients in-person visits to government departments and public agencies, something much-needed at these times given the risks posed by the COVID-19 pandemic, the Jordan News Agency, Petra, reported.
The all-new edition of the application is "a qualitative leap" and an important step in the government's digitisation drive, Razzaz said. The app offers services provided by multiple ministries and bodies, the Social Security Corporation, the Greater Amman Municipality, the Civil Status and Passports Department, the ministries of justice, industry, trade and supply, social development and local administration, the Companies Control Department, the Department of Land and Survey, the National Aid Fund and the Bekhedmetkom platform.
The prime minister noted that more than 9 million e-transactions have been completed since the beginning of the current year compared with 2.5 million in 2019.
Minister of Digital Economy and Entrepreneurship Muthanna Gharaibeh said that the number of digital services provided through Sanad has doubled from 100 e-services in the first phase, to more than 200 now.
up
18 users have voted, including you.
Newsletter
Get top stories and blog posts emailed to you each day.