You are here
Gov't to launch networking programme for vocational training graduates
By Ana V. Ibáñez Prieto - Feb 14,2018 - Last updated at Feb 14,2018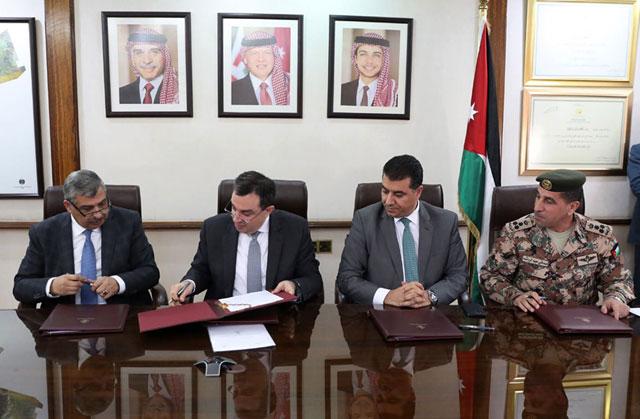 (From left to right) Minister of Labour Ali Ghezawi, Planning Minister Imad Fakhoury, Minister of Agriculture Khaled Hneifat and Director General of the National Employment and Training Company Brig. Gen. Sudki Rawashdeh (Photo courtesy of The Ministry of Planning and International Cooperation)
AMMAN — The Ministry of Planning and International Cooperation on Wednesday signed a Memorandum of Understanding (MoU) with the National Employment and Training Company (NETC) to connect graduates of the Vocational Training Corporation (VTC) with public funds and programmes.
The agreement, titled, "Networking Programme for Graduates of the Vocational Training Corporation and the National Employment Company with the Government's Financing, Credit and Advisory Programmes" was also signed by Minister of Labour Ali Ghezawi and Minister of Agriculture Khaled Hneifat.
"This MoU will provide sustainable job opportunities for graduates through maximising the use of available governmental means related to specialised training programmes, management of specialised projects, technical advisory and feasibility studies," Planning Minister Imad Fakhoury said during the signing ceremony, noting that it will also provide graduates with "soft financing windows to enable them to establish their own production projects".
"A package of interventions will be implemented starting from the initial stages of vocational training programmes provided by the VTC and the NETC," he continued, adding that "in parallel, courses will be developed within the training packages related to project management, project construction and implementation requirements in cooperation with the 'Iradah' centres affiliated with the Planning Ministry."
"New vocational training programmes will be introduced to meet the market's needs, along with other initiatives related to agricultural and agro-industrial mechanisations and the maintenance of hybrid vehicles," the minister noted, explaining that "this will enable them to benefit from the lending programmes of the Agricultural Credit Fund and the Development and Employment Fund."
For his part, Ghezawi said that "the government has taken the responsibility to provide job opportunities to job seekers in unconventional ways through making them business producers rather than employment seekers."
"The Ministry of Agriculture is activating its financial mechanisms through the fund," he continued, highlighting that the government is seeking to develop agricultural manufacturing and attract local workers in the agricultural sector.
For his part, Director General of the National Employment and Training Company Brig. Gen.Sudki Rawashdeh noted the importance of promoting the culture of self-employment, stressing the need to "support employment initiatives through small and medium economic projects that contribute to the provision of decent living, serving a wide range of job seekers graduates".
Related Articles
Oct 07,2017
AMMAN — Labour Minister Ali Ghezawi on Saturday opened the 6th job fair, in which 68 agricultural companies offered 150 jobs, the Jordan New
Sep 07,2017
AMMAN — The Vocational Training Corporation (VTC) and the Jordan Chamber of Industry (JCI) on Thursday signed a memorandum of understanding,
Dec 16,2014
The Vocational Training Corporation (VTC) announced Tuesday in a press statement that the Pharmaceutical Centre of Excellence (PCOE) in Salt, in close collaboration with the Jordanian Association of Pharmaceutical Manufactures and the Employment-Technical and Vocational Education Training (ETVET) fund, is offering professional training, initially for a one-year technical diploma in manufacturing operations in production units.
Newsletter
Get top stories and blog posts emailed to you each day.