You are here
Gov't to review fuel prices every month as of 2013
By Omar Obeidat - Nov 19,2012 - Last updated at Nov 19,2012
AMMAN – The government will review prices of fuel products on a monthly basis as of January 1, 2013, Ministry of Energy and Mineral Resources Secretary General Farouk Hiyari said Monday.
Since petroleum product prices were liberalised last week by the government, prices of oil derivatives in the domestic market will be defined every month based on oil prices on international markets, he said.
"If oil prices on the global market go up, oil derivative prices in the Kingdom will be up, while if prices go down, fuel prices will automatically see a decrease," noted Hiyari, who also heads the special pricing committee that includes representatives from the Ministry of Industry and Trade and the Jordan Petroleum Refinery Company.
Speaking to The Jordan Times in a telephone interview, he indicated that the government's decision to raise prices of fuel, which went into effect November 14, is valid until January 1, 2013.
The decision, which prompted protests and riots across the country, sent the price of 90-octane gasoline up by 15 per cent from JD0.70 a litre to JD0.80 a litre.
Diesel and kerosene prices went up to JD0.685 per litre instead of JD0.515 a litre. The prices of the two products increased by 33 per cent.
Cooking gas saw the highest rise, with the price of a gas cylinder going up from JD6.5 to JD10.
Authorities say the decision to lift subsidies and sell fuel products at cost was taken to avoid further financial losses to the Treasury as the cost of subsidies on this year's budget was estimated at JD800 million.
The new subsidy regime, under which direct cash payments will be delivered to low- and medium-income Jordanians, is expected to bring the cost on the budget to JD300 million a year.
Under the new system, each individual of a household that consists of six members or less and whose income is less than JD800 a month or JD10,000 a year will receive JD70 annually in compensation of the hike in prices.
Related Articles
Nov 20,2012
Demand for petroleum products dropped sharply over the past few days after prices of oil derivatives in the local market went up following a government decision to lift fuel subsidies, according to the Gas Station Owners Association (GSOA).
Dec 20,2012
Prime Minister Abdullah Ensour has said that direct cash support to ease the effect of lifting fuel subsidies could be stopped if prices of crude oil drop below $100 per barrel.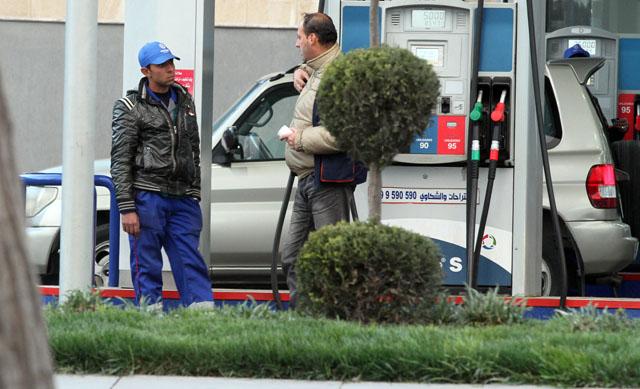 Mar 22,2015
Fuel prices are expected to drop slightly in the domestic market as of April 1, Deputy Jamal Gammoh, head of the Lower House Energy and Mineral Resources Committee, said Thursday. 
Newsletter
Get top stories and blog posts emailed to you each day.