You are here
Graffiti artist uses city walls to 'ignite people's social conscience'
By Camille Dupire - Nov 08,2017 - Last updated at Nov 08,2017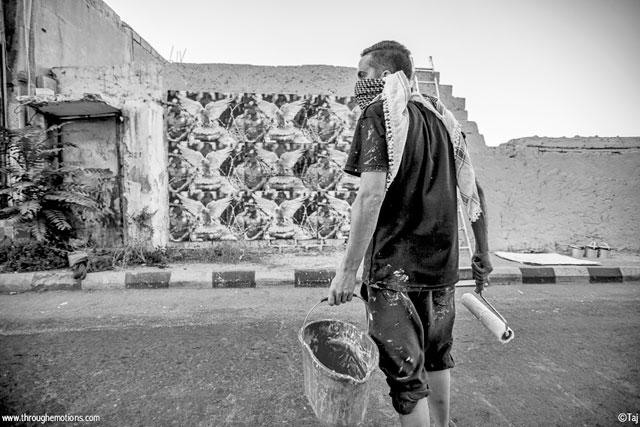 'The Doves' art piece is displayed on the walls of Mu'ath Bin Jabal street in Amman (Photo by Tatjana Curic @ La Taj)
AMMAN — "I see street art as archives of social revolution. Like a war photographer, I am simply recording urban activities for posterity; graffiti and tagging are a kind of journalism through art," said Just One, a Dubai-based graffiti artist whose work covers some of the walls of Amman.
Just One started tagging at the age of 16, along with a group of friends influenced by the 1990s hip-hop culture. "At that point, I was only 'tagging' my name on the city's walls, mostly at night with spraycans and a marker," he recalled.
As the city's video surveillance increased, the young man decided to leave the graffiti scene and turned to photography and video instead. "When I started doing graffiti and tagging, I realised I was truly passionate about art, but I also knew that it wouldn't give me a degree," the artist told The Jordan Times on Tuesday.
"However, I still had so many things to say and felt the need to elaborate more," he continued, remembering how he tried again after being inspired by a group of Parisian artists who made photo realistic art.
Wall-painting has always existed since the origins of civilisation, Just One stated, noting that it reflects the people's need to express something to others in an indirect way. "Murals are important in that they bring art into the public sphere," he explained.
The artist, who said he draws inspiration from every place he visits, has been working on the walls of Dakar in Senegal, Italy, Jordan, Yemen, Iran, Palestine and Syria, among others.
"In each city, I tackle a different issue that is relevant to its context. In Italy, I worked around the issues of racism and immigration, while my artwork in the Middle East was more focused on peace," he explained.
Social issues, revealed by riots and protest movements, fuel the inspiration of Just One, whose work is often centred around the symbols of peace.
"It seems like the most appropriate theme to work on in the Middle East," he said, noting that portraying the Dove, the rose, the kiss or the peace hand sign are also ways to avoid censorship.
Describing his work as "muralism" (a movement associated with Mexican artists in the 1920s who sought to unify their country after the revolution), he explained it as a way to "take his distance from the graffiti and street art cultures", which still have difficulty being accepted by society.
Stressing the struggles he faced in expressing his personal views in conventional cinematographic work, he noted that wall-painting provided him with a shortcut to exposure, by breaking the rules and "being disrespectful in a good way".
"I believe seeing walls being painted is a sign of the freedom and democracy in any country," the artist said, noting that street art and graffiti are slowly emerging in the Arab world. "It shows the possibility to spread a message without any control over it," Just One continued, stressing the need for the artist to convey "a valuable and meaningful message".
He remembered the story of two Syrian kids who were allegedly tortured by the police for having written propaganda graffiti on a wall, later igniting the events that led to the Syrian crisis, saying: "I see artists like thermometers of the freedom offered in each society."
Originally commissioned by Dubai for a single art piece expected to last only four weeks, the Swiss national has been living in the region for over four years. His work can be found in the Secret Garden and in Mu'ath Bin Jabal street in Amman.
Related Articles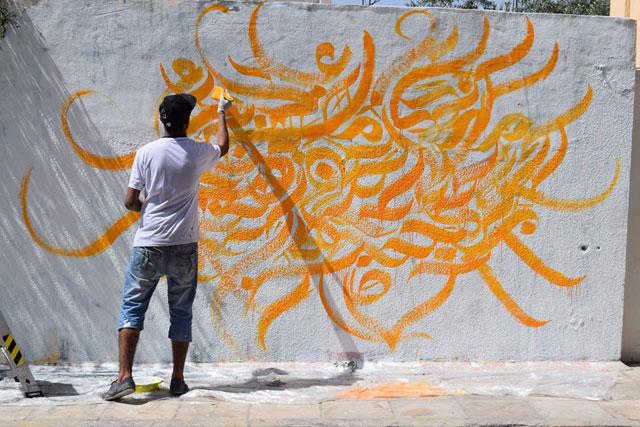 Feb 27,2018
AMMAN — Foreign visitors to Amman often recalled being mesmerised by the colourful works of art covering the walls of the capital, designed
Apr 02,2018
AMMAN — A tip by her sister encouraging her to visit Amman triggered in curiosity in Palestinian Ashgan Borjas about the nearby capital.&nbs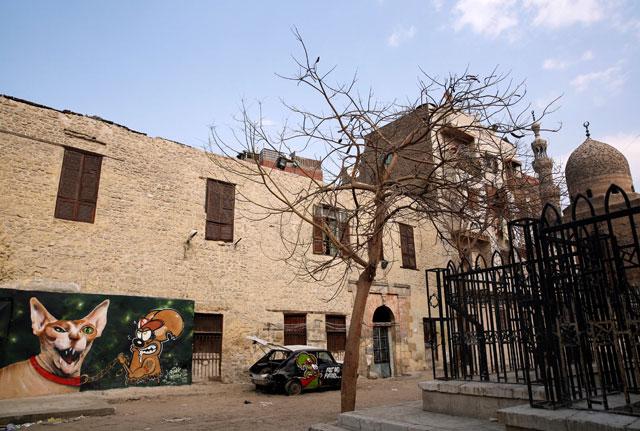 Feb 15,2017
CAIRO — On a winding road leading into Cairo's City of the Dead, a cartoon mouse with round ears and green eyes adorns the shop fronts and w
Newsletter
Get top stories and blog posts emailed to you each day.