You are here
Grassroots business recycles trash into furniture for 'a greener Jordan'
By Camille Dupire - Oct 08,2017 - Last updated at Oct 12,2017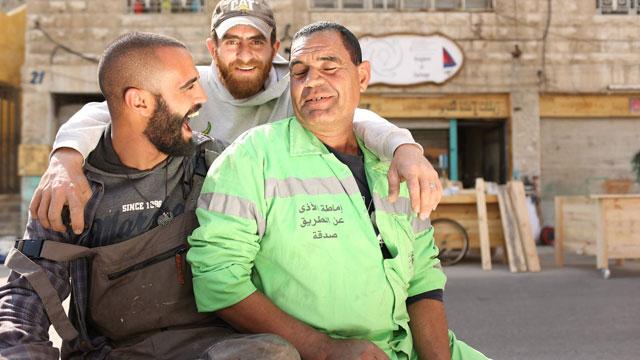 Alaa Ziadeh (left) poses for a photo with a member of the Ziadat4recycling team and a municipality employee in front of the workshop (Photo courtesy of Ziadat4recycling)
AMMAN — Alarmed by the realisation of how much waste people throw out in the street of Amman, Alaa Ziadeh decided to take action and beautify the city by turning the garbage into unique home-made furniture at his Ziadat4recycling workshop.
In a promotional video that calls for more citizen awareness towards the environment, the young man and his team expose their recycling ideas as part of Amman Design Week 2017.
"People have this relation to trash thinking that it is something bad. By creating Ziadat4recycling , we wanted to change that misconception," Marianne Sievers, a member of the Ziadat4recycling team told The Jordan Times.
A grassroots business started four years ago, Ziadat4recycling seeks to show people that wastes are not always "dirt and useless pieces", but can instead be turned into beautiful pieces of furniture, according to the founder.
An innovative business, Ziadat uses objects that were thrown out to create unconventional home furniture with nearly 100 per cent recycled material. Beds and benches made out of pallets, plastic spoons lamps are some of the company's signature creations.
More interested in preserving the environment than making profits, Ziadeh stated that Ziadat "doesn't aim to produce to sell but rather aim to produce to last", focusing on creating long lasting environment-friendly pieces.
By focusing on upcycling — a process of transforming by-products, waste materials into new products of better quality and better environmental value — the company seeks to reach out to three fields: saving the environment, creating job opportunities and economic growth for Jordan, and raising environmental awareness, he explained.
"We target three of the most crucial challenges the world, and especially the Middle East, is facing: huge environmental pollution due to almost no legal framework or national strategy for solid waste management, low economic growth and low environmental education," Alaa Ziadeh told The Jordan Times.
"There is a lack of national waste management and of a waste separation system in Jordan," the creator explained, noting that "it is aggravated by a lack of awareness and understanding of the idea of recycling".
Entering its fourth year of activity, the local enterprise aims to promote public awareness to "save nature in addition to making cities cleaner and safer for all their inhabitants" through creative reuse.
Based on the idea that upcycling can lead to a more responsible and respectful ecological lifestyle, Ziadat also aims to spread knowledge on daily ways to avoid waste.
"Big restaurant chains throw huge quantities of plastic spoons every day," Ziadeh said, adding, "We want them to understand the importance of giving these away to create beautiful lamps shades rather than having them burnt."
Besides collecting garbage tossed out in the streets, Ziadat also welcomes donations of objects that people no longer require to avoid public littering.
"With just a little bit of fixing, long-lasting good objects and pieces be given a new life and aesthetic," Ziadat concluded.
Related Articles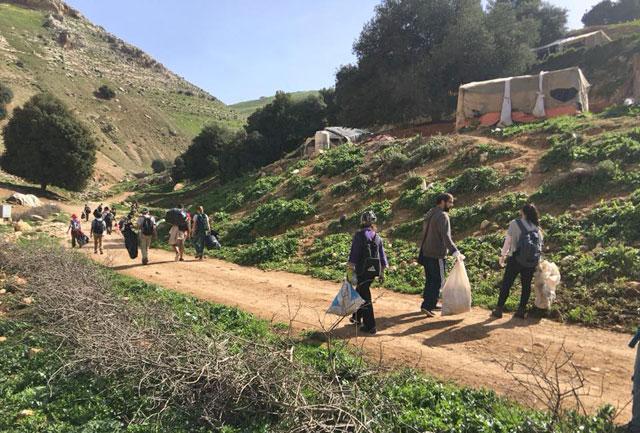 Mar 04,2018
AMMAN — Nature lovers on Friday went on a cleaning hike, as part of the ECO Hikers "Clean as We Hike" weekly events aimed at safeguarding Jo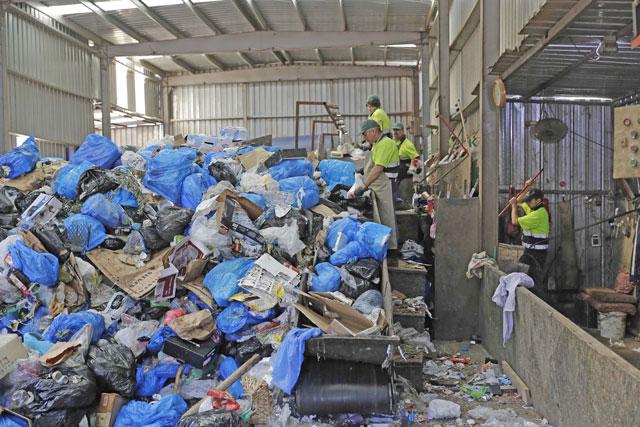 Nov 26,2017
TABARJA, Lebanon — The Lebanese divers plunge below the surface, scuba tanks on their backs and nets in hand.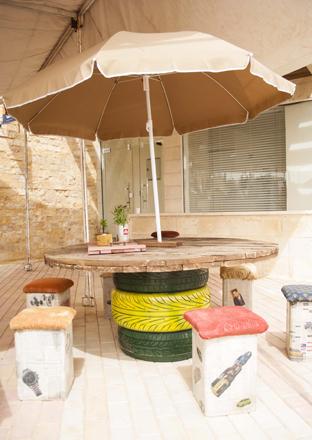 Aug 13,2015
AMMAN — Starting with children in Jerash, volunteers with a development centre are working to spread the culture of recycling in Jordan."If
Newsletter
Get top stories and blog posts emailed to you each day.