You are here
Gulf states pledge $2.5b to support Jordan
Aid includes budget support, financing investment projects and deposits in cenral bank
By JT - Jun 11,2018 - Last updated at Jun 11,2018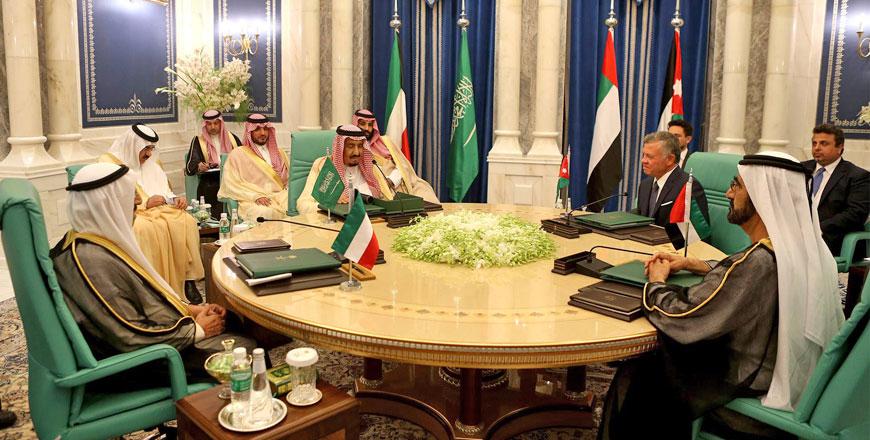 His Majesty King Abdullah attends a summit in Mecca called for by Saudi King Salman Bin Abdulaziz to support Jordan economically early on Monday (Photo courtesy of Royal Court)
AMMAN — Saudi Arabia, Kuwait and the UAE pledged early Monday $2.5 billion in support for Jordan's economy, they declared at the end of a four-way summit, attended by His Majesty King Abdullah and HRH Crown Prince Hussein.
In a communiqué issued at the end of the gathering in Mecca, participants said that assistance, which will come through four means, is driven by "the fraternal ties between the four states, Islamic and Arab principles and values," detailing a package that includes a deposit at the Central Bank of Jordan, guarantees to be presented to the World Bank in favour of Jordan, budget support for five years and funding of development projects by development funds in the three countries.
According to the Royal Court, which published the communiqué, King Abdullah thanked the Custodian of the Two Holy Mosques King Salman Bin Abdulaziz for convening the summit, and for Kuwait and UAE for responding to the invitation, adding that the aid package would help Jordan overcome its economic crisis.
King Salman on Saturday called the rulers of the three other nations to set up a meeting in Mecca after demonstrations rocked Jordan over a proposed tax hike.
"They agreed to hold a meeting comprising the four countries... to discuss means of supporting Jordan to overcome its current crisis," the statement carried by the official Saudi Press Agency said.
On the sidelines of the summit, His Majesty met with UAE Vice President and Prime Minister and Dubai Ruler Mohammad Bin Rashid Al Maktoum, with talks focusing on bilateral ties and regional developments.
At the meeting, the King and Sheikh Mohammad agreed to sustain coordination between the two countries. His Majesty thanked the Gulf states for their support for Jordan, a Royal Court statement said.
His Majesty and the Crown Prince had performed Umra, or minor pilgrimage to Mecca, upon arrival in Saudi Arabia on Sunday.
Newsletter
Get top stories and blog posts emailed to you each day.