You are here
Halaseh checks on projects in Zarqa, Ruseifa
By JT - Aug 01,2016 - Last updated at Aug 01,2016
Public Works Minister Sami Halaseh checks on construction projects in Zarqa on Monday (Photo courtesy of Ministry of Public Works and Housing)
AMMAN — Public Works Minister Sami Halaseh on Monday conducted field visits to check on construction projects for schools and roads in Zarqa and Ruseifa, the ministry said.
Halaseh checked on five schools under construction, including the 28-classroom Saad Bin Abu Waqqas School, a JD1.5-million project funded by a grant from the Saudi Fund for Development, the ministry said in a statement.
The minister also visited Al Qasem School, a 30-classroom school being built on 4,500 square metres at a cost of JD1.4 million, funded by the European Investment Bank.
He checked on progress at Fatima Al Zahraa School, funded by the World Bank at a cost of JD1.2 million. The school will have 24 classrooms on 4,600 square metres.
The minister also checked on the progress of roads and bridges being built at a cost of JD37 million, part of which is funded by the Kuwait Fund for Arab Economic Development.
The project includes the expansion and improvement of the Zarqa-Birin road.
At the end of the tour, Halaseh checked on work at an intersection and bridge in Ruseifa, being implemented for JD3 million, which is now open to vehicles.
Related Articles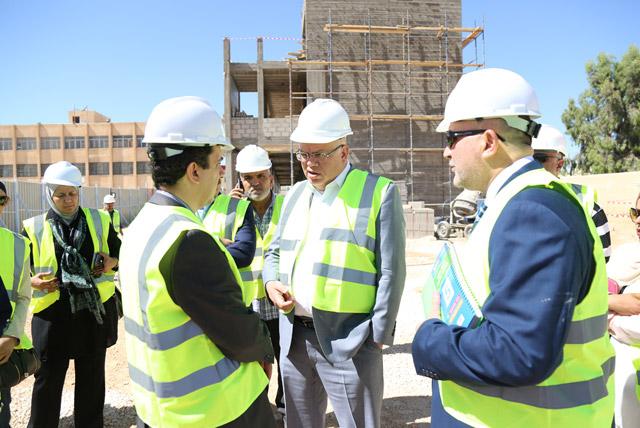 Jun 08,2017
AMMAN — Public Works and Housing Minister Sami Halaseh on Wednesday toured several schools, accompanied by a delegation from USAID, to check
Nov 26,2014
Minister of Public Works and Housing Sami Halaseh on Wednesday checked on the rehabilitation work of the road connecting the Zarqa Free Trade Zone, Azraq and the Saudi border crossing (Al Omari).
Sep 01,2016
AMMAN — Public Works and Housing Minister Sami Halaseh on Thursday checked on schools under construction in Amman and Zarqa, a statement fro
Newsletter
Get top stories and blog posts emailed to you each day.