You are here
Heavy rain floods Amman roads, snow falls in the south
By JT - Jan 07,2013 - Last updated at Jan 07,2013
AMMAN –– Several roads in the southern parts of the Kingdom were partially closed to traffic due to snowfall on Monday, while heavy rain swept the rest of the country, according to the Public Security Department (PSD).
PSD Spokesperson Lt. Col. Mohammad Khatib told The Jordan Times that the Bseira and Qadissiya areas, in the southern governorate of Tafileh, and the Taybeh-Ail road, in Maan, were partially closed due to snow accumulation. He said heavy equipment was working to open these roads.
Heavy dust also blocked the Azraq-Omari road, in the eastern part of the Kingdom, said Khatib.
Several traffic lights in the capital were damaged by strong winds and streets in several western Amman neighbourhoods were flooded, he added.
The Greater Amman Municipality Monday declared a state of alert, as employees were trying to deal with emergencies resulting from the blizzard that affected the Kingdom Sunday.
Related Articles
Jan 07,2013
Snow continued to fall over hilly areas in the southern parts of the Kingdom on Monday, where several roads were closed to traffic, according to the Public Security Department (PSD).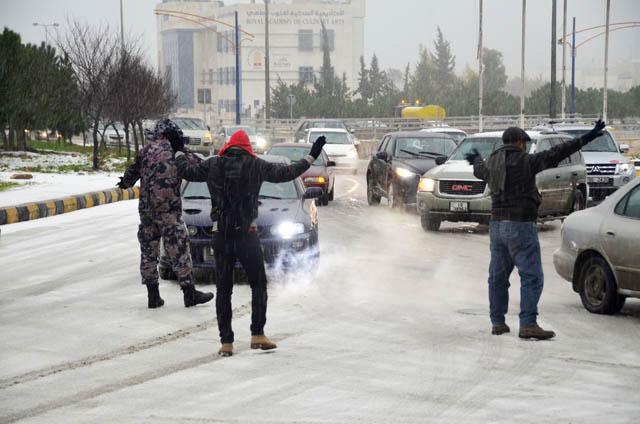 Jan 07,2015
The majority of roads in the Kingdom's northern and central regions were either closed or partially open with extreme caution on Wednesday due to snow accumulation.
Feb 02,2013
Floods and heavy snowfall over the weekend resulted in the death of one man and left more than 300 people stranded, according to the Civil Defence Department (CDD).
Poll
Newsletter
Get top stories and blog posts emailed to you each day.