You are here
'High intake of medical students causing lower quality education'
By Dana Al Emam - Jul 25,2016 - Last updated at Jul 25,2016
AMMAN — Medical student Zeina Abu Orabi says she feels that the quality of the education she is receiving is lower than the teaching offered to students in previous years.
The fourth year student at the Jordan University of Science and Technology (JUST) said that while her instructors and professors are "very qualified", the quality of training has deteriorated because of the "huge" number of students accepted into medical schools every year.
"Just a few years ago, up to four students would participate in a paediatric patient round with a physician, but nowadays, around 18 to 20 students take part in the round," she told The Jordan Times in a recent interview.
Surrounded by large groups of students, young patients are scared and sometimes cry.
"This negatively affects the students' learning experience," she said.
Abu Orabi said the high student intake means professors have to hold exams over two days, rather than in a single day, and online multiple choice exams have been introduced to accommodate the large class sizes.
"Students in previous years were able to dissect cadavers, but we do practical anatomy training on plastic dolls," she added.
Osama Odat, a resident orthopaedic at the University of Jordan (UJ) Hospital has also noticed a "sharp" increase in the number of students admitted into the country's six medical colleges.
"Medical colleges accept some 700 students annually, and most of these colleges lack training facilities," he told The Jordan Times in a recent interview.
Only UJ and JUST have hospitals where students can receive hands-on training.
"Medical students at the Hashemite, Mutah, Yarmouk and Balqa universities are distributed among local public hospitals and the two pressured university hospitals," Odat noted.
"Why would universities accept large numbers of students if they cannot provide them with training and residency opportunities?" he questioned.
The problem, according to Odat, is exacerbated when students graduate and start applying for internship opportunities at local hospitals.
University hospitals accept up to 140 fresh graduates, while the Royal Medical Services accept around 200 and the Ministry of Health accepts 200 to 300 into public hospitals across the country, he said.
Some who are not admitted seek the less desirable residency opportunities at private hospitals. Others head abroad and this means Jordan does not benefit from the experiences and skills of talented doctors.
The same complaint was echoed by Laith Abbadi, a resident psychiatrist at UJ hospital, who said that last year only two graduates were accepted into the psychiatry residency programme at UJ out of over 20 who passed the oral exam.
Over 90 graduates passed the dermatology residency exam at UJ, competing for four internship openings, two paid and two unpaid, he said.
The high number of applicants also contributes to "difficult" working conditions for those who are accepted, as the hiring institutions take the attitude that "if you do not take it, someone else will", Abbadi added.
He explained that resident doctors work for up to 30 consecutive hours, with rare days off.
Mohammad Sarhan, an orthopaedic consultant and assistant professor at the Hashemite University, said qualified residents solve a big problem in overcrowded hospitals, citing a need to accommodate more students into residency programmes.
He said patients rarely visit general practitioners and are well aware of specialties and subspecialties, so residency programmes should rise up to the challenge of providing enough specialists in various fields.
Commenting on the impact of accepting a large number of students into medical schools, Sarhan said instructors carry the burden of dividing students into groups and providing them with extensive information.
"Only last year, I had eight or nine students with me in my patient rounds, but this year I have 21 students," he said, noting that not all students in the group will get the chance to examine the patient.
Meanwhile, Hani Dmour, secretary general of the Higher Education Ministry, said the numbers of students admitted into medical colleges is directly linked to the performance of students in the General Secondary Education Certificate Examination (Tawjihi).
He cited a gap between the number of accepted students and the universities' capacities, particularly two years ago, when some 4,000 Tawjihi students scored over 95 per cent.
"Students push towards entering medical schools and so do their parents," he told The Jordan Times over the phone, adding that the adoption of stricter regulations regarding the national exam over the past two years has significantly decreased the number of high-achieving students.
Meanwhile, he said local hospitals in the governorates do not always provide students with the opportunity to deal with diverse medical cases, highlighting a need for medical students to receive hands-on training at hospitals in bigger cities with more varied cases.
Related Articles
Jul 10,2016
AMMAN — Around 3,000 cases of hip dislocation among newborns are recorded every year in Jordan, according to the Developmental Dysplasia of
Jul 18,2016
AMMAN — The Ministry of Higher Education is studying a decision to allow students who fail their high school exams to enrol in technical com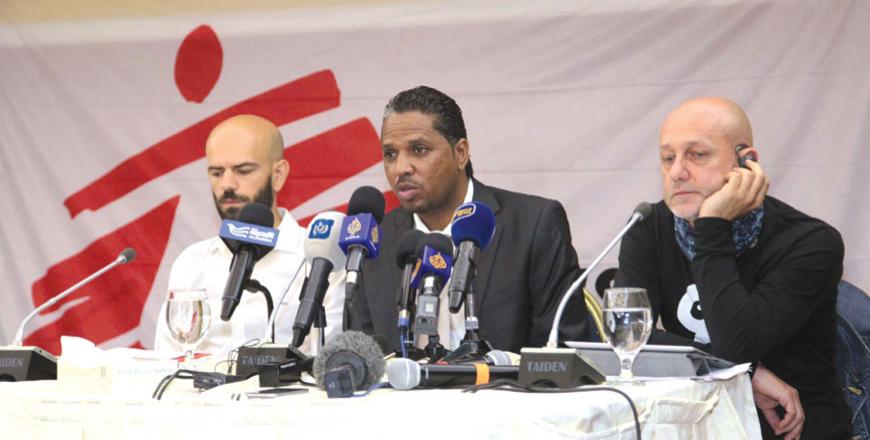 Aug 10,2015
AMMAN — Médecins Sans Frontières (MSF) mission in Yemen on Monday called on the international community and concerned parties to facilitate
Newsletter
Get top stories and blog posts emailed to you each day.