You are here
His Majesty attends Jordan-UAE military drill in Abu Dhabi
King says Jordan , UAE 'stood side by side during various circumstances, will continue to do so'
By JT - Jun 27,2019 - Last updated at Jun 27,2019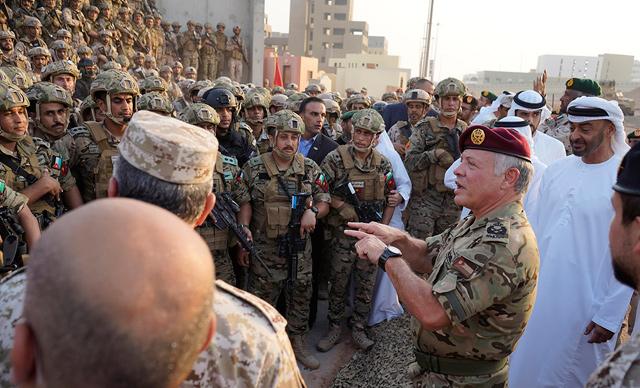 His Majesty King Abdullah attends a joint military drill between JAF and the UAE Armed Forces in Abu Dhabi on Wednesday (Photo courtesy of Royal Court)
AMMAN — His Majesty King Abdullah, the Supreme Commander of the Jordan Armed Forces-Arab Army (JAF), accompanied by HRH Crown Prince Hussein, on Wednesday attended a joint military exercise between JAF and the UAE Armed Forces in Abu Dhabi.
The Sheikh Mohamed Bin Zayed Brigade/Quick Reaction Force represented the JAF during the exercise, a Royal Court statement said.
Crown Prince of Abu Dhabi and Deputy Supreme Commander of the UAE Armed Forces Sheikh Mohamed Bin Zayed Al Nahyan received the King and Crown Prince Hussein at the site of the military drill.
His Majesty was briefed on the various stages of the exercise, which aims to enhance cooperation in joint operations and promote the exchange of military expertise between the two countries, according to the statement.
Moreover, the King toured the exercise site and observed the exercise with Crown Prince Hussein and Sheikh Mohamed.
His Majesty commended the advanced level of Jordan and UAE military personnel, expressing appreciation to Sheikh Mohamed for his efforts to bolster cooperation between the two countries.
The King said he had always hoped to see Jordanian and Emirati forces side by side, stressing that the joint exercise sends a strong message to the region and the world that Jordan and the UAE are together in the face of challenges.
The drill included combat and counterterrorism operations in various environments, using live ammunition.
In a Tweet following the exercise, His Majesty said that "Jordan and the UAE have stood side by side during various circumstances and will always continue to do so", stressing the friendship and fraternity between the two countries.
His Majesty and the Crown Prince returned to the Kingdom later on Wednesday.
Newsletter
Get top stories and blog posts emailed to you each day.