You are here
Historian highlights Australia, New Zealand role in Great Arab Revolt
By Saeb Rawashdeh - Dec 05,2015 - Last updated at Dec 05,2015
AMMAN — As the centennial of the Great Arab Revolt approaches, Neil Dearberg, an Australian military historian, highlighted the contribution of Australian New Zealand Army Corps (ANZAC) troops to the war effort against the Ottomans.
The scholar researched his upcoming book, tentatively titled "Desert ANZACS: Our Under-Told Story of the Sinai Palestine Campaign 1916–1918", at the American Centre of Oriental Research in Amman, as well as drawing on past field research in Jordan, Israel and Syria.
ANZAC's role in the Arab Revolt, led by Sharif Hussein Bin Ali, has not been adequately recognised by historians, according to Dearberg.
"Our military was called a 'Dominion' force and often simply referred to by the British as part of a British expeditionary force, without our national recognition, much to the annoyance of Australians today," the former Australian army officer told The Jordan Times in a recent interview.
In British terminology, Dominion forces were troops from South Africa, India, the West Indies, Nepal, Sudan, Egypt, Australia and New Zealand.
"The main British-led force during the Palestine campaign was the Egyptian Expeditionary Force, which included five brigades of Australian Light Horse, a brigade of New Zealand Mounted Rifles, a squadron of Australian Flying Corps, 12 companies of Imperial Camel Corps and a light car patrol," Dearberg noted.
Lt. Gen. Sir Harry Cauvel, the Australian commander, took part in the final stages of the revolt, which culminated in the capture of Damascus and Aleppo and capitulation of the Ottoman army in the Arab theatre of war in October 1918.
In addition to his research on ANZAC, Dearberg published his interpretation of the heavily contested role of British officer T.E. Lawrence in the Arab rebellion in the T.E. Lawrence Society journal based in London.
According to the historian, Lawrence's autobiographical book "Seven Pillars of Wisdom" is a literary masterpiece, but highly self-promotional and lacking in accuracy.
"In the early decades after World War I, his [Lawrence's] story was read and believed in the absence of anyone else's story."
Lawrence's account of his leadership and planning skills, capabilities and coordination of military actions was exaggerated, while his actual role was minor, said the scholar.
"Today, my view is that he may have thought he was doing right by the Arab cause, but I believe he was misguided in the political and diplomatic scene through youth, immaturity and lack [of] experience in such matters — he was a young archaeologist with no military and no diplomatic skills," Dearberg added.
The Great Arab Revolt Project, organised by the UK's Bristol University, was Dearberg's initiation into the Arab rebellion's history.
"They asked me to find connections between Australian troops, Lawrence and the Arab Revolt. I discovered many connections that I was totally unaware of, and also that there was little knowledge in Australia about this campaign and very little had been written about it, compared to the enormous volumes about Gallipoli and France/the Western front," he recalled.
The historian's military background not only provided practical grounding for his self-education as a military historian, but also motivated him to raise awareness of the achievements of Australian and New Zealand troops in this era of history.
"I decided I should write a book to inform the Australian and New Zealand public about this under-reported campaign, in which our troops were instrumental in achieving victory, and to give recognition to the soldiers who fought and died, were wounded or survived and to their families," Dearberg concluded.
Related Articles
Oct 02,2016
AMMAN — Through their participation in the Great Arab Revolt, Australian New Zealand Army Corps (ANZAC) troops developed friendships with th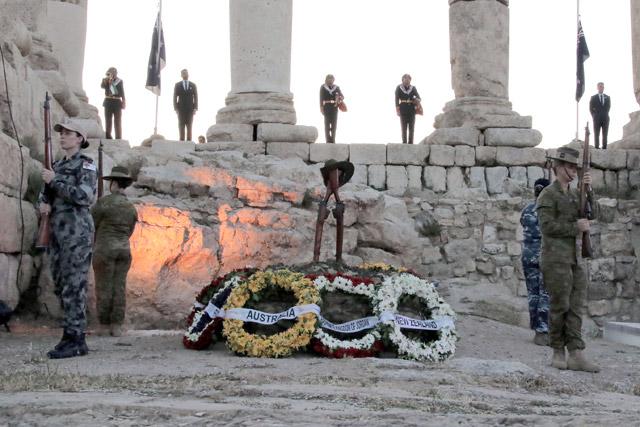 Apr 25,2017
AMMAN — The Australian Embassy on Tuesday hosted a dawn service at the Amman Citadel to commemorate the anniversary of the first major milit
Apr 25,2015
The Australian embassy in Amman marked the 100th anniversary of the battle of Gallipoli in World War I and Australian-New Zealand Army Corp (ANZAC) Day at dawn on Saturday, the Jordan News Agency, Petra, reported.
Newsletter
Get top stories and blog posts emailed to you each day.