You are here
House polarised after deal with gov't over price hikes
By Raed Omari - Dec 06,2017 - Last updated at Dec 06,2017
AMMAN — A group of MPs on Tuesday again set a government's cancellation of the increases to electricity and fuel prices as a precondition to attending the deliberations over the state budget law.
Following a meeting they held at the Chamber, 53 lawmakers pledged to stand firm on the issue and insist on the demands they set in a memo they had signed in which they pledged not to attend the Lower House's deliberations of the 2018 draft state budget law unless the government reverses its recent decision to increase electricity tariffs and prices of oil derivatives.
The memorandum, which prompted the government to reach an understanding with House leaders, was signed by 90 deputies.
In remarks to journalists following their closed-door meetings, MPs Khalil Atiyyeh, Abdullah Akaileh, Khaled Fanatseh, Nabil Gheishan and Mohammad Riyati said that keeping the government's subsidy to bread is another "irreversible" condition.
Tuesday's meeting was seen as a complicating factor for the understandings the government reached Monday with the House's Financial Committee under which the distribution of the JD171 million allocated in the draft budget law to beneficiaries of the social safety network was left to the panel, which is supposed to set the mechanisms and criteria of who deserves the cash support.
The funds will make up for rising cost of living brought about by lifting subsidies on commodities that have been a fixture in the economic system for decades, mainly the bread subsidy.
As it stands now, there are two camps within the House: one supporting the deal with the government and another rejecting any compromise over the bread subsidy and electricity and fuel prices.
The second agreement the government reached with MPs on Monday was on keeping exemptions of ownership transfer fees on apartments whose areas do not exceed 150 square metres, while the third is granting beneficiaries of the National Aid Fund a monthly kerosene subsidy of JD2 during winter.
The fourth agreement is exempting electricity subscribers whose consumption does not exceed 160 kilowatts/hour from the JD0.004 raise that went into effect on Friday, as a result of the increase in oil prices to rates over $55 per barrel, the cap set by the government in 2016 to keep electricity prices unchanged.
Related Articles
Dec 05,2017
AMMAN — The government on Monday agreed with the Lower House's Financial Committee that the latter handle setting the mechanisms to distribu
Nov 30,2017
AMMAN — The Energy and Minerals Regulatory Commission (EMRC) on Thursday announced that the average price of a crude oil barrel in September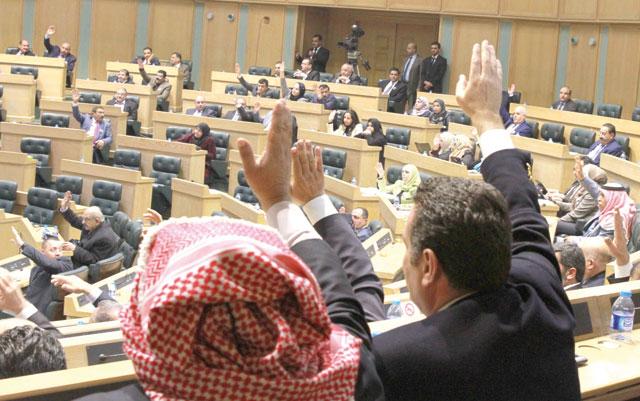 Dec 31,2017
AMMAN — The Lower House on Sunday voted in favour of the state budget and budgets of independent government units draft law in a session tha
Newsletter
Get top stories and blog posts emailed to you each day.