You are here
House speaker calls on political, community leaders to 'seriously engage' in political modernisation project
First ordinary session of 19th Parliament concludes 
By JT - May 16,2022 - Last updated at May 16,2022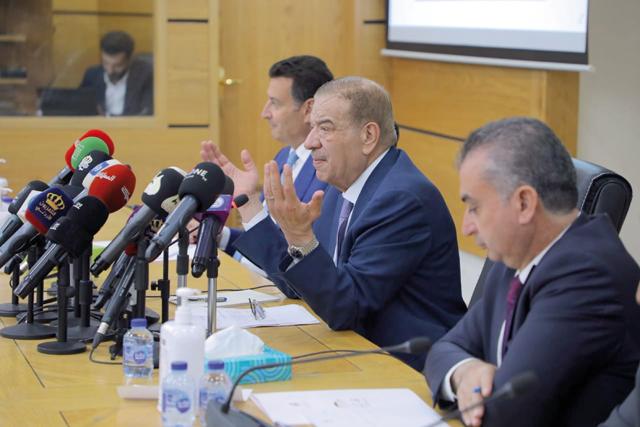 Lower House Speaker Abdulkarim Dughmi speaks during a press conference in Amman on Monday (Photo by Osama Aqarbeh)
AMMAN — Lower House Speaker Abdulkarim Dughmi on Monday said that Royal directives acted as guidelines during the first ordinary session of the 19th Parliament that ended on Sunday.
During a press conference to review the Lower House's achievements during the session, Dughmi called on political and community leaders to "seriously engage" in the political modernisation project through building effective partisan experiences that enjoy responsible awareness of the interests of the Kingdom and Jordanians, the Jordan News Agency, Petra, reported.
He also called for seeking to avoid some concepts that are imposed on public opinion, such as continuous talks about the low levels of confidence in Parliament, which is a concept based on those some who launched opinion surveys that "lack several scientific and practical grounds".
The Lower House, during its first ordinary session that lasted for six months, endorsed 14 draft laws and amendments to laws through 65 sessions, including seven oversight sessions, which included discussing 301 questions, including 91 that the government did not answer.
The House's committees held 302 meetings, while these panels still have 45 temporary laws and draft laws to address, in addition to the Audit Bureau reports of 2018, 2019 and 2020.
The Lower House also made 15 inquiries, including only five that the government replied to.
Dughmi referred to what the ordinary session included from legislation at the level of the Constitution and political reform laws, which identified a political path that ends by the next decade with forming parliamentary governments and a "strong" partisan life.
Newsletter
Get top stories and blog posts emailed to you each day.